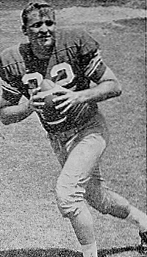 BBY LAYNE - One of football's all-time great quarterbacks.
Played at Texas College. Formally joined the Steelers on October 6th last year in a trade that sent quarterback Earl Morrall and a couple of draft picks to the Detroit Lions.
Perhaps the greatest trade in Steeler history, for Layne is credited with re-building the team into a contender.
Ranks second to Sammy Baugh in most of league's passing statistics. Established a number of team and individual records with Steelers last fall.