"We think there's no question he can do the things we ask our linebackers to do," said Dick Haley, director of player personnel. "We don't know if he's a Jack Ham, but he has good quickness and he's covered extremely well on passes."
The dream of taking University of Pittsburgh running back Tony Dorsett never came to fruition after Dallas traded up to select him. Cleveland, who had the 17th choice, took the first linebacker, Robert Jackson.
Cole, a four year regular at defensive end led his team in tackles in 1975 and 1976, while his college coach Bill Mondt offered this praise, "Robin is the finest athlete I have ever seen play football."
Cole told newsmen that his heroes were Jack Lambert and improbably Jack Tatum and George Atkinson. A self-described "filthy player, Cole added he likes to be called "Mad Man," but he won't complain if he was called "Mad Dog" or "Wild Man."
"I do a lot of mean things," Cole continued. "I don't do nothing too illegal, but I do a lot of mean things." He made a point by saying he was expecting to be a starter. "That's the attitude I have. I feel I can start."
The linebacker became the fourth defensive player selected in the first round by Chuck Noll and was the first time the Steelers had used a first round pick on a linebacker. Since the hiring of Noll in 1969, only one first round pick was no longer with the team.
After the first day, when only five rounds had been completed, Coach Noll was enthusiastic about the team's selections. "I think we had a good day," he enthused before adding a touch or realism. "The true test of a draft is next year. Everybody has a good draft right now – including us."
With two first round selections in the top eight, the 1977 draft was an ideal opportunity for the Bengals to reduce the talent gap between the two teams that fought a battle to the end of the season to be division champions.
They certainly appeared to have used their choices wisely, selecting two defensive linemen in the first round before picking up an Ohio State running back in the second. The two games in the regular season against Pittsburgh should provide interesting viewing.
At the end of May, the Steelers held their rookie camp at Three Rivers Stadium with four veterans, at least sixteen free agents and all the Steelers quarterbacks joining them.
Number one draft selection Robin Cole learnt that "Mad Man" was the media's choice of the aliases he had offered them previously.
"I feel I have a chance to play," Cole enthused. "That's the number one thing. After I make the team, I wanna be a starter. After that, I wanna be rookie of the year. Then I wanna be All-Pro. Then I wanna make the Hall of Fame. These are the goals I set for myself a year ago."
A native of Los Angeles, Cole had the opportunity to attend UCLA, but didn't want the distraction of playing close to home so went to New Mexico. "If I was at UCLA, my family would have been visiting me at the dorm all the time. I just wanted to go to a school that didn't have a lot of All-Americans where I could concentrate on football. I wanted to mature."
"I wanted to play where the competition is best," Stoudt added meaning the NFL as opposed to Canada. "And the best team in the NFL is here. For so long it's been my dream to play in the NFL that I'm not going to settle for anything else."
Veteran Terry Bradshaw was raring to go. Talking about the offseason, Bradshaw observed, "I actually had tonsillitis twice." This affected his singing career, but gave him more time on his farm where he threw frequently in preparation for training camp.
"They can't sign enough quarterbacks," Bradshaw observed. "A little more competition." he decided. "If they keep signing all these quarterbacks, Chuck's gonna end up making me a great quarterback."
Last season's surprise package Mike Kruczek, who won six games for his team as Bradshaw's backup, admitted, "The first objective is to be a team player. You put aside your own consideration. Everybody knows that Bradshaw is a great quarterback. And he is a great guy too.
I'm still learning and I'll just have to be ready if needed. I'm looking forward to this year. I want to contribute as much as I can. We've got a tough schedule, but we have the type of team that can win every game. We've just got to avoid those early losses we suffered last year."
The Steelers were set to have a battle in camp with the kickers after signing five free agents to compete with Roy Gerela, who had some injury woes at the end of the 1976 season.
MIKE KRUCZEK REFLECTS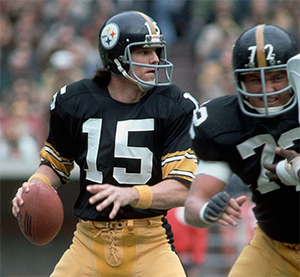 "It all came and went so fast that it seems like yesterday," offered Mike Kruczek as he reflected on his first season with the Steelers. "It was an unexpected pleasure. "Very few rookies get to play – period, much less the quarterback position on a team that won two Super Bowls."
Ask to pick out the highlights, he paused before replying, "I really liked those two wins against Cincinnati. The snow game was something, but only because of the climate."
The Pittsburgh Post-Gazette recalled Kruczek's performance in that game.
In that eerie setting with snowflakes falling and the footing treacherous, Kruczek displayed the poise and ability to take charge that are his trademarks.
It was difficult to believe he was only a rookie. In that snowy setting, he bolted up the middle several times and stunned the Bengals with a third-down pass to Lynn Swann when the Steelers were protecting a 7-3 lead that stood up for the victory.
Kruczek accepts that he won't get as much playing time if Terry Bradshaw stays healthy. "The first objective is to be a team player," he said. "You put aside your own consideration. Everybody knows that Bradshaw is a great quarterback. And he's a great guy too.
I'm still learning and I'll just have to be ready if needed."
RAY MANSFIELD – RETIRED?
"Training camp is the toughest part," said Ray Mansfield. "The two a days and the contact, that's what gets harder and harder. Once the season starts, that's a snap."
Mansfield, the Steelers center for ten years, wasn't officially retired, but he was not expected to return with Mike Webster now the starter in that position. "I could still start for 22 teams in the NFL," Mansfield added. "I can still play the game. I have no doubt about that.
Physically, I haven't noticed any deterioration. I'm as quick as I ever was and a lot stronger. I think I could play for another two or three years."
Mansfield had built a thriving insurance business outside of football, but was reflective when he observed he was finished at 37. He meant with football of course.
SUPER BOWL KICKOFF TIME PUSHED BACK TO 1800
CBS paid $1 million extra to have the starting time of the Super Bowl put back to 1800. NFL Commissioner Pete Rozelle said the move didn't set a precedent for the future
OFFICIAL - MANSFIELD IS RETIRED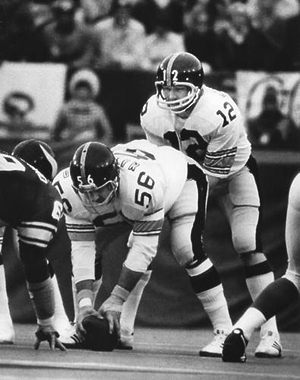 On July 5th, the 36-year old Steelers center announced his retirement ending his 14-year NFL career and brining to a conclusion a streak of 196 regular season games. "Everybody thinks I was just playing a big game," Mansfield revealed about the delay in his announcement. "But up until about three weeks ago, I still didn't know. You know, it's hard to come in here and say, 'I quit.'"
When Art Rooney joined Mansfield in the press room, he asked, "What did you do?" with Mansfield replying, "It was smart wasn't it?" The Steelers owner didn't agree, "You look like you're in good shape," Mr. Rooney offered before wishing the ex-player luck, adding, "You were good for us."
When Mr. Rooney departed, Mansfield enthused, "That's great people. I always felt like I would never be ripped off with this organisation. Even when I was a kid. If you got hurt, you always felt you'd get paid."
With training camp just two weeks away, a pensive Mansfield said, "I love training camp. It's kind of like being at a boy scout camp. After two-a-days, camp's a breeze. You sleep, eat and drink beer after practice."
1977 TRAINING CAMP COMMENCES
The Steelers opened their 1977 training camp in Latrobe with temperatures in the mid-eighties and with the arrival of 44 rookies and free agents along with 11 veterans.
The veterans know what to expect, but for the newbies it will be a mixture of anxiety and pride in being given a shot to make it in the NFL. The rookies will soon be facing two-a-day drills when their mettle and fitness will be tested to the full.
Further strain on their mental strength would be the absence of their head coach, who had the court case in San Francisco to concern himself with. Offensive backfield coach Dick Hoak and receiver coach Tom Moore would share the responsibilities for the quarterbacks. Defensive coordinator Bud Carson took over staff and player meetings.
"They're quite competent, quite trustworthy," observed Noll about his assistants. "I rely on them. The biggest problem from my absence will be not being able to get to know our young players. Judging the rookies, watching them learn and progress is the biggest aspect of the early camp.
I can review films, but it's not the same as seeing rookies first hand."
JOE GILLIAM HOPING TO RETURN TO FOOTBALL
The former Steelers quarterback Joe Gilliam was waiting to meet NFL Commissioner Pete Rozelle to find out whether he can re-join his current team in New Orleans. Following his second arrest in two months in 1976, Gilliam was ordered to a drug rehabilitation treatment centre.
Gilliam continues to work out in anticipation of a return to the Saints.
NUTCRACKER WELCOME FOR STEELERS ROOKIES
In temperatures that would suit sitting on the beach, the rookies were introduced to the Nutcracker Drill. A center, a quarterback and a running back lined up in an I. On an imaginary line of scrimmage is a blocker five yards right of center with a defender stood directly opposite.
The purpose of the drill is for the defender to play off the blocker and tackle the runner by staying low to the ground with his head up with eyes intent on the ball-carrier. The blocker's goal is to drive the defender into the ground.
The first blocker was five-year veteran Gordon Gravelle returning from injury and confident in the contest against a tentative rookie Randy Frisch. In a split second it was over with Frisch flattened by Gravelle's overpowering, submarine-like charge, was five yards offline eating dirt.
The message couldn't have been any clearer, unless you put up a billboard saying "Welcome to the NFL" in the middle of the practice field. The Nutcracker Drill is an introduction, an indoctrination, a ritual. For some rookie, it is a vehicle for making an indelible impression; for others it is Panic City. A gut check, by any measure.
Two summers ago, for example, an unheralded free agent linebacker turned defensive end named John Banaszak blew away vet after vet en route to a spot on the final roster. In subsequent rounds, against different blockers, Frisch found surer footing, more effective weapons. He survived and so did the number one draft choice Robin Cole, who after a shaky start, exploded into blocker after blocker with pleasing results.
Other, such as spindly linebacker Paul Harris, a sixth round choice impressed with their speed. Others, such as fifth round selection Steve Courson and Glenn Deadmond impressed with their strength.
The most intriguing and even matchup was Bennie Cunningham versus Cole. Last year's first round pick against this year's first round. Courson's contest against Gary Dunn was another crowd pleaser with often less than clear cut results.
As brutal and inhumane as the drill might seem, it does have its lighter moments. After a scrambling blocker had at long last wrestled a fumble away from the would be tackler, the ever enthusiastic defensive line coach George Perles stared into the blocker's face and screamed, "Defense's ball!"
Then he added, "You get some insight into a player's character in the Nutcracker. If I wanted to test one of our offensive linemen, I'd match him against Banaszak, Steve Furness or Fats Holmes. Banaszak might be the best I've ever seen in the drill for consistency. For one lick, Holmes is impossible to beat."
Woody Widenhofer, the linebacker coach, offered, "It has to be a test, especially for the rookie. You've got to see what they've got inside as well as outside and there's no quicker way. Some guys don't show up well physically in this type of drill, but their character shows through most of the time. It's a good yardstick."
In any event, it is pro football's way of saying "Welcome." Some welcome!

Based on an article by David Fink for the Pittsburgh Post-Gazette.
MEL BLOUNT TO SUE CHUCK NOLL
After Chuck Noll revealed in the George Atkinson court case that Mel Blount could occasionally fit into the "criminal element" of NFL players who are excessively rough, Blount became incensed.
Mystified by his coach's testimony, Blount revealed he would file a civil suit for $6 million for defamation of character while his agent declared the player has suffered "manifold, irreparable damages" to his business interests.
"There's no chance at all that I'll play for the Steelers under Noll," Blount said in an interview. "How the hell can you play for a coach who says you're part of a criminal element that goes around maiming people?" his agent asked.
JACK LAMBERT ALSO TO MISS CAMP?
Jack Lambert's agent Greg Lustig told the Pittsburgh Press that the All-Pro linebacker would only report to camp when a new contract had been signed while not ruling out the possibility of sitting out the season. While the remaining veterans entered camp, Lambert and Mel Blount did not report.
Lustig disclosed that Lambert's base salary in 1976, the final year of his three-year contract, was only $30,000 although performance bonuses had boosted the total to $70,000.
Lambert's agent confirmed he was asking for a comparable salary to the one of $225,000 being paid to the Eagle's Bill Bergey. A recent offer of $100,000 base salary plus the same amount as a signing bonus was not considered sufficient. "It was their first legitimate offer, but it was not in line," said Lustig.
The agent was confident of reaching an agreement confirming Lambert was keen to sign saying, "We've made a lot of progress in the last week."
"Jack loves the game," Lustig added. "He would play for free. All we are asking is that he be paid according to his status in the league. He shouldn't be making a sacrifice to play with the Steelers. There's a difference between being frugal and cheap."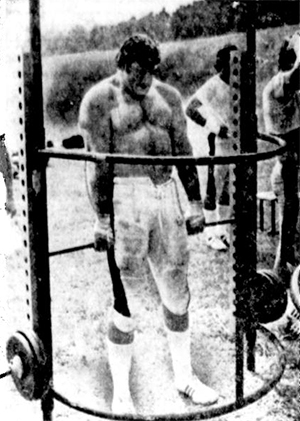 STEVE COURSON
With the start of training camp, stories about the rookies began to appear and I thought it poignant when I saw this one about Steve Courson in the Pittsburgh Press.
Steve Courson is 6-1, 260lbs and possesses an upper body which would gag Rocky Bleier. If the Steeler rookie guard's last name was Antidisestablishmentarism it would still fit on the back of his jersey.
Because he has a 54-inch chest, Courson admits he is unable to pull clothes directly from the rack. Lest he be confused with King Kong, Courson says, "Actually, XXXXL shirts are a little big for me."
Additionally, Courson has been running 40-yard dashes here in the 4.6 range. He bench presses over 500 pounds and the rumour is he used to go door-to-door on Halloween dressed as the World Trade Center.
The unbelievable irony saw Courson end up in Latrobe General Hospital because of dehydration. His keeling over in practice provided a not-so-subtle message for other rookies and veterans. If Courson, who is built like Three Rivers Stadium, has wilted, when will the rest of the players fry?
Complaining about the humidity, Courson said, "It's not this bad down south. Not this close. I've been dying out there."
SALARY UNREST IN STEELERS CAMP
Along with Jack Lambert, Mike Wagner and Glen Edwards were dissatisfied with their salaries. "We have a severe money problem," offered Edwards. "A lot of rookies are being paid more than proven vets, a lot more. A lot of guys are very unhappy about the contracts they have. We have a lot of unsigned players and some of them are nowhere near signing from what I understand."
"I signed last winter right after the season ended because I was in financial difficulty," he added. "I'm signed, but I'm far from satisfied. I was in the kind of situation this club loves to see a player get into at contract time. I'm not the only player who's unhappy about his salary either."
The Pittsburgh Post-Gazette reported the Steelers salary problems began after winning their two Super Bowls. Veterans expected sharp salary increases in their next round of contract negotiations and watched as the Steelers handed out huge bonuses and hefty salaries to the previous year's draft picks, Bennie Cunningham and Ray Pinney with their number one choice for 1977 Robin Cole also doing well.
"What I feel bad about," said Edwards, "is that it all boiled over now while Chuck's trial is going on. That was bad timing, but it had to happen sooner or later."
Edwards told the Gazette that he hadn't been offended by Coach Noll's testimony suggesting there were Steeler players that could be included on the criminal element list. "I understood that Chuck said it under duress; he was pressured into it by some attorney," said Edwards.
"I know things like that can happen in court. I'm not bothered by it at all. After all, I've been called a lot worse things. Some people have even suggested I get back on the boat and go home to Africa."
DÉJÀ VU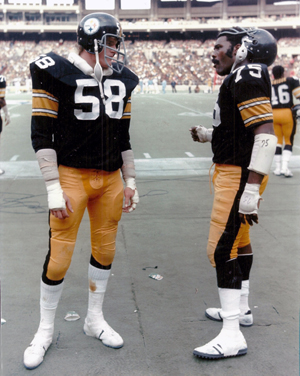 While the negotiations with Jack Lambert's agent Bucky Woy were ongoing, the Pittsburgh Press told the story of 1969 when the talks with their first round draft pick Joe Greene were stalled.
It was the same Woy and he and Dan Rooney had haggled for two days with the agent holding firm against Rooney, a businessman not known for draining his bank account on a single player. "I remember," Woy told the Press, "I looked up at the clock and it was five minutes to six. I said to Dan, 'If you don't make up your mind in five minutes, I'm gonna demand Joe Green be traded.'"
While Mr. Rooney pondered on how in the world Woy would achieve that, Art Rooney Sr., walked into the room. "How far apart are you" the Chief inquired? "$75,000," Woy snapped back.
Art Rooney drew on his cigar and said to his son, "Pay him." The signing of Greene was the beginning of the Steelers success, but it could have been different if Mr. Rooney had not put his hand in his pocket.
With the agent threatening to sit Lambert out for the season, Dan Rooney has to decide whether it's a bluff. "I don't know what the hell they're trying to prove," Woy said. "I think the world of the Steelers, but I don't think they are negotiating in good faith."
The Press suggested that Woy was requesting a contract of $200,000. "We're not asking for an arm and a leg," the agent said, "but the Steelers have been getting away pretty cheap on Jack Lambert."
ABSENTEES FROM CAMP – "A PRODUCT OF OUR TIME"
After returning to training camp from the courtroom in San Francisco, Chuck Noll was happy to be talking about rookies and tackles reported the Pittsburgh Press. Coach Noll also addressed the absence of All-Pros Mel Blount and Jack Lambert calling it a product of the times while not blaming the players for the times.
"It's hard to fault the players when guys not better than them are getting more money," observed Noll. "But we don't want to be a lemming, we don't want to follow the others over the cliff. Just because other teams lose $1.7 million or something doesn't mean we should follow. We have to keep our sanity and function the way we have to. I always felt we should try to break even."
He thought Lambert and Blount were affected by rising salaries throughout the league despite the fact several teams were losing money. Lambert's agent has alluded to the fact that Philadelphia linebacker Bill Bergey earns $225,000 with the Eagles reportedly in financial trouble.
Believing the players should be in camp, Noll said, "I am concerned with people honouring their contracts. I am concerned that we have rules and I have to levy fines and things when those rules are broken."
The coach told the Press he will move a few players around to their positions and even hinted they could be replaced by Donnie Shell and Robin Cole. He added he was pleased with his linebacking corps, even though Jack Ham was the only returning starter in camp.
"I was a bit worried about the linebackers," he offered. "But, I think we found more depth than we expected." With Marv Kellum playing middle linebacker and Loren Toews the outside, Noll said the play of Al Humphrey (injured reserve last year) and draft choices Dennis Winston and Paul Harris gave him flexibility.
LARRY BROWN TACKLES HIS POSITION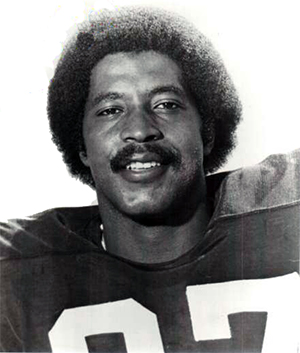 After three years as the Steelers starting tight end, the transition to tackle for Larry Brown was under consideration. The transformation began early the previous season with injuries to the interior line. With his blocking skills, Brown filled in occasionally on the line.
"We were down to only two healthy tackles," said Brown. "We just plain ran out of bodies. I was an emergency replacement. Maybe they liked what they saw." After being advised that he would be given a trial in camp as a tackle, Brown hit the weights during the offseason with Jon Kolb. "He goes at it a lot harder than most people," said Brown of Kolb, "so I had to keep pace. It was a challenge for me."
Brown increased his weight from the low 220s to 248 and his once lean frame is now being described as muscular. "People keep saying how much I've grown," he said, "but I'm not paying much attention to it. As for playing at tackle, I still consider it an experiment. I'm neither thrilled nor unhappy about it. Actually, I'm not sure what I think about it yet.
I'm not sure whether I'm going to rotate between positions or stay at tackle. I'm not sure why this is being done. Maybe they got into a situation last year that they don't ever want to get into again. There are a lot of unanswered questions in my mind."
Some thought the potential position switch for Brown was designed to promote last year's number one draft pick, Bennie Cunningham, to starter at tight end. Coach Noll wasn't agreeing, "He (Brown) did a great job filling in at tackle last year without a background. Now we are giving him a background."
"We don't know yet where he will play, but he will be a starter," added Noll. "He was good enough to start at tight end, we won't move him to tackle if he's going to be the backup."
BLOUNT NO INTENTION OF PLAYING IN PITTSBURGH AGAIN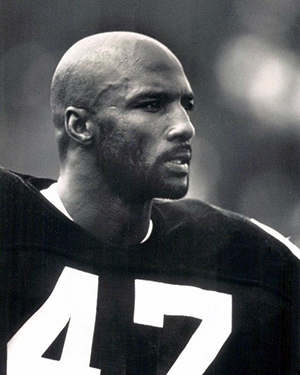 Contacted by the Pittsburgh Post-Gazette to comment on his entry into training camp, Mel Blount replied that anything is possible, before adding, "I still don't have any intention of playing in Pittsburgh."
Contacted while working on his 100-acre farm in Georgia, Blount said, "My future is in the Steelers hands. If they want to hold me, that's their prerogative to do so. The same goes if they decide to trade me. Whatever they decide to do, I'll have to accept it."
The Steelers were entering the second week of training camp still without their two defensive stars, who were holding out for bigger contracts. Although Blount had filed a lawsuit against Chuck Noll and the Steelers because of the "criminal element" list, the player said he feels no bitterness towards the coach.
"My opinion of him hasn't changed," said Blount. "I still respect him. He's probably the best coach in football. I wish him well." Asked about his opinion of the Rooneys, he replied, "I always thought they were a great family. Whatever happens between them and me, I hope they continue to do well. I won't carry any grudges.
They've done a good job with the organisation. I don't have anything bad to say about anything. I hope my record with them speaks for itself."
In addition to Blount, Jack Lambert was still absent it bothered Joe Greene. During the previous season's camp, Greene had been concerned about the "vibes" and felt the team was flat before they lost four of the first five games.
"I think we are going well here though," felt Greene. "Even with what's happened, I'd compare this camp to the one we had in 1974 after we won the first Super Bowl," he added. "As soon as we get down to the right numbers and get Jack and Mel back, we'll be in good shape," he enthused.
LAMBERT UPSET WITH THE $500 FINES
If compromise was on the agenda for the Steelers in their discussions with Jack Lambert's agent, Bucky Woy, the daily $500 fines were not appreciated. Woy thought the fines, which the Steelers told the agent were being levied, violated "negotiations" in good faith" with Lambert.
Woy indicated Lambert was "very disturbed" about the fines and may again leave the area. "It's his position and our position in view of the facts – trade him," said Woy.
Dan Rooney was told by Woy, "If you guys really believe what we are asking is too much, then sign a one-year contract for what's been offered to date. You'll have Jack and you'll be in a position to see what Jack's worth."
Woy said Rooney's answer was, "You insult my intelligence," forcing the agent to believe that trading Lambert was in the best interest of the player as the team wasn't interested in doing what was best for Lambert.
Linebacker coach Woody Widenhofer thought the situation concerning Lambert coming into camp looked bleak. "Now it looks bad," he told the Pittsburgh Press. "It's hard for me to believe that Jack Lambert wouldn't play football this year, but you never know."
"The reason why Jack Lambert is such a great player is because he's such an intense athlete," outlined Widenhofer before adding, "Jack's a little bit of an overachiever. He says to himself, 'I will not be denied.'

STEELERS TRAINING CAMP FIRST SCRIMMAGE
The Steelers number one draft pick, Robin Cole, wasn't short in coming forward with his football ambition of making the Hall of Fame. In the Steelers first scrimmage at Latrobe, Cole impressed the fans who thought maybe his aspiration wasn't to be confused with arrogance.
His crunching tackles and solid hits were what the gallery wanted to see with his interception of Terry Bradshaw's first pass the pièce de résistance that had the fans in raptures.
"He did a helluva job," offered Coach Noll before projecting that with Loren Toews sidelined with an injured knee, Cole would be starting as the outside linebacker in the Steelers first exhibition game against Buffalo. "Right after I said we'd try Cole in the middle, Toews got hurt," Noll explained.
Linebacker coach Woody Widenhofer told the Pittsburgh Post-Gazette that Cole is "stronger, faster and possibly better" than Jack Lambert was at his same rookie stage.
Wentford Gaines, a Cincinnati ninth-round draftee who spent last season on injured reserve, would take the cornerback slot against the Bills with Mel Blount still in Georgia and Jimmy Allen on the sideline with a knee injury.
Gaines' dream of playing in the NFL would become a reality against the Bills. "I guess you could say I'm still in shock," he remarked. "Not the kind of shock where I don't know what I'm doing. It's just that it hasn't hit me yet. It probably will Saturday when I walk out there and say, 'Wow, I'm startin!'"
Knowing that when Allen returns from injury he would probably be slotted back in the starting position, Gaines added, "I'm going on the assumption the position is open. If I go out there and do the job, I know I'll still get some consideration."
Bennie Cunningham was also ailing so Randy Grossman started in the scrimmage and all four quarterbacks had a spell leading the offense.
THE CAMP GOES ON
Without two of their defensive stars, Mel Blount and Jack Lambert, the Steelers training camp in Latrobe continued as normal as they approached their first preseason game.
"You know Coach Noll," said George Perles, the Steelers defensive coach. "He just goes about his business coaching the football team as though everybody in camp that's supposed to be here. Nothing fazes that man. It's uncanny."
Perles was realistic, "What can you do about it? We have to work with what's here. We can control that situation. We can't do anything about people who are someplace else.