Due to their Super Bowl IX success, the Steelers found themselves in the unusual position of picking last and having twenty five other teams making their selections in the draft before Pittsburgh's name appeared on the board.
The number one pick overall had already been decided according to the experts. Three days before draft day, the Atlanta Falcons traded their best offensive tackle, George Kunz, and their first round choice to Baltimore in exchange for the Colts' top pick. Due to the shortage of good quarterbacks available, it was assumed that Atlanta made the trade to ensure they acquired California's quarterback Steve Bartkowski.
Not predicting who the Steelers would select, Art Rooney offered that it would be a long wait. "There is almost no way to predict who will be available. Preparation wise, picking last in the first round is no different from picking anywhere else because you prepare for the entire draft, not just one round.
I look at it this way. We have the first pick in every round but the first. That's the positive way to look at things and that is the way I prefer to look at it."
Rooney believed that offensive and defensive linemen and linebackers were the strengths in the draft. "There are just an awful lot of great linebackers available. Many more than usual. But, on the other hand there are only two or three tight ends and a couple of quarterbacks."
He'll upgrade the team," enthused Haley. Brown was a three year starter as a free safety in college with nine career interceptions including one returned for 82 yards against Michigan State in 1972. Described as an notwithstanding all-around athlete with tremendous physical ability.
Most Pittsburgh sports journalists believe the Steelers were preparing to replace Mel Blount, who had appeared to upset the franchise establishment with remarks he had made after being pulled in the AFC championship game by Bud Carson. "I can't do anything about speculation," coach Noll grinned.
Brown was a free safety in college and likes playing that position but stated, "If they want me to play corner, I can handle it." He added that he expected to go in the first round but could not have cared less if he gone in the fifth. "With my talent, I knew I would have made it." Noll said Brown would be tried at the cornerback slot. "We start all our quality defense backs there and then we evaluate," he explained.
In round two of the draft, the Steelers selected Bob Barber, a defensive tackle-end from Grambling. With a team loaded with defensive talent, fans were not too excited with the first two picks.
"I've seen too many cases where teams have allowed what happened on the playing field to screw up their entire draft," said Noll. "You have to consider the draft as a separate entity. We believe in picking the best player available. When you do that, you can always find room for them somewhere. It just happened that defensive players were the best ones available when our turn came on the first two rounds."
Tight end Walter White from Maryland was the third pick. "One of the big things in White's favour," according to Dick Haley, "is that his body is such that he can put on more weight."
Houston's outside linebacker Harold Evans was the fourth round pick, Elon defensive back Brent Sexton in the fifth, Nebraska offensive tackle Marvin Crenshaw in the sixth, followed by offensive tackle Wayne Mattingly from Colorado in the seventh. Mattingly dropped out of school because of scholastic difficulties, but assistant Colorado coach Dan Radakovich touted the Steelers on the player. Asked if Mattingly could be a sleeper, Radakovich replied, "If he isn't, I blew it."
On the second day of the draft, Art Rooney Jr. observed, "My dad always says that scouts are like horse breeders. They are eternal optimists and they never die because they're always looking forward to next year's crop."
8th Tom Kropp, linebacker of Kearney State; Al Humphrey, linebacker of Tulsa.
9th Eugene Clark, guard of UCLA; Bruce Reimer, running back of North Dakota State.
10th Kirk Heyer, defensive tackle of Kearney State; Archie Gray, wide receiver of Wyoming.
11th Randy Little, tight end of West Liberty State.
12th Greg Murphy, defensive end of Penn State.
13th Robert Gaddis, wide receiver of Mississippi State.
14th Mike Collier, running back of Morgan State.
Explaining how they selected players in the lower rounds, Art Rooney Jr. volunteered, "We match up opinions, but sometimes maybe just one guy will have a real good opinion on a player and that's enough."
Noll added, "Everybody has prejudices and you have to consider that when you evaluate reports. One guy will say a guy isn't a good hitter, but he may not consider anybody a hitter unless he is unreal. Another guy might say a player is a hitter, but he considers anybody a hitter who pushes somebody."
The coach added that a lot of colleges put their best guys on defense, especially in the line, and that it sometimes makes it difficult to find offensive linemen unless you switch them.
The long awaited trial to determine whether the "Rozelle Rule" is legal began on February 3rd. Held without a jury in front of U.S. District Court Judge Earl Larson, it was predicted that there would be two weeks of evidence put before the judge who will provide his ruling later because of previous commitments.
As with most professional sports in the USA, there was a reserve clause in a player's contract that specified the team had the first option to sign the player after his contract had expired. If the team decided against offering a new contract, the player could then theoretically try to sign with a team of his choice.
In the NFL, a by-law allowed the league's commissioner Pete Rozelle (picture left) to award "compensation" of equal value to any team who lost a free agent to another team. The reimbursement was usually in the form of future draft picks, which inhibited teams from signing veteran players through fear of losing high draft picks.
The players' association contended the rule unfairly prevented a player from setting his own terms and was a restricted practice.
To complement their draft selections, the Steelers picked up five free agents. Two brothers, James and Larry Pettus, were signed along with Tennessee State running back Tyrone Cooks, Albany State defensive back Harold Little and Missouri Western offensive tackle Bill Wymore. All five and the 21 players drafted will report for physicals and orientation February 21.
February 27, Pete Rozelle lifted the ban on signing players whose contracts with the World Football League had been breached and added to the conundrum of the NFL player contract's dispute.
"This could change the Greenwood thing quite a bit," volunteered Dan Rooney. "We've already had some preliminary conversations with L.C.'s new attorney Lee Goldberg), but this opens up a whole new area of discussion.
Goldberg told us recently that he believes Greenwood's contract with the WFL was invalid already. Goldberg believes that Greenwood was not bound to the WFL starting this year at all.
The attorney commented, "I haven't talked to L.C. tonight. From what I can see though, this Rozelle decision could lead to an awful lot of player movement. In fact, it might provide the Rozelle Rule with its sternest test yet."
The first of two interesting rule changes the NFL made for the upcoming season saw teams banned from having more than 11 players in the huddle. This followed the practice of Kansas and Oakland having more than 11 in their defensive huddles and then sending some to the sideline depending on the anticipated offensive play from their opponents. The league declared such action unethical and ruled it would be unsportsmanlike conduct with a 15 yard penalty.
In previous seasons, an incomplete pass into the end zone would result in a touchback with the ball returned to the 20 with what was the defensive team now taking over on offense. For the new season, the ball will be returned to the line of scrimmage.
One rule turned down was the proposal that a pass receiver need to have only one foot in bounds for a successful reception.
While the Players Union's court case on the Rozelle Rule continued, 65 players became free agents on May 1st as they were freed from any obligation to their teams to play out the option year following the expiration of their contracts.
"We've already had firm offers from more than one other NFL team," commented Greenwood's attorney Lee Goldberg. "I won't name teams and I won't discuss what they offered, but the offers have already started to roll in. I think at this point it is fair to say that L.C. would prefer to remain a Steeler so long as the price is right.
The loyalty factor is a significant one. If he chooses to take his talents elsewhere, it won't be a matter of disloyalty either, although I'm sure it be hard to convince Steeler fans of that.
What we are determined to avoid here is a bidding war. We want to evaluate each offer on its own merit. We don't intend to go back to the Steelers after every outside offer and use it as leverage just to jack up the price. I think that would be grossly unfair."
Greenwood had signed with the Birmingham Americans of the World Football League, but it appears the contract was void with the reorganisation of the franchise.
Dan Rooney commented, "I'm sticking with my earlier statements that I'm hopeful we can sign L.C. I think it is in his best interests as well as ours that we do this.
But I think that all the publicity surrounding the Greenwood business is making people edgy. I think both LC and his attorney are getting edgy. I don't want that to happen on either side because I think that would prejudice the outcome."
Dan Rooney also commented on the Rozelle Rule. "There are several misconceptions about the Rozelle Rule," he explained. "I think the players use it as a kind of crutch when they can't get the amount of money they are asking for.
For one thing, the rule has only been used four times. Another thing is that the players believe that if and when the Rozelle Rule is abolished, they will be able to double their money by becoming free agents and creating bidding wars.
Well, that's not true either, because I don't know where the money is going to come from. Revenue sources are not unlimited.
With the financial question marks hanging over the WFL, Barber was sure he was not joining a sinking ship. "I really looked into it and the Shreveport team is here to stay," he said. Barber was scheduled to join the Steelers for their May three day camp for rookies.
The 1975 season began in earnest for coach Noll towards the end of May when the quarterbacks, including new signing Jeff Hollenbach of Illinois, arrived at Three Rivers Stadium in preparation for the appearance of the new players due for the annual rookie camp.
When the NFL revealed the Steelers' first championship season highlight film at the stadium, the coach didn't attend the showing. Instead of reflecting on the previous season, Chuck Noll was busy planning for the next one.
Coach Noll had spent the offseason learning to fly after purchasing a plane of his own and now he was only interested in defending the Steelers championship.
Noll told the media that, except for medical reasons, he doesn't cut any players during the weekend camps and all rookies will be invited to Latrobe in mid-July. "We don't expect to find finished products," the coach offered. "But we start finding out who wants it badly. Most of them have physical ability, but you have to find out if they are competitive."
Sixth round draft pick, Marv Crenshaw missed camp for personal reasons, primarily as he is looking at playing in the Canadian Football League.
Eighth round choice Tom Kropp is waiting for the basketball draft before deciding whether to sign with the Steelers while Al Humphrey may be looking at the WFL. "We haven't been able to reach Humphrey at all," said a Steelers' spokesman. "We don't know where we stand there right now."
One rookie who did arrive was seventh round pick Wayne Mattingly who had sat out his final year in college. Before the draft, the Steelers called Mattingly to confirm his willingness to return to football. "I wasn't sick of football and it certainly wasn't out of my system yet," he explained. "I just felt I needed a rest from it. There were a lot of little hassles that went along with college football. I was tired of them.
One thing I've already found out about pro football is that the people here don't care too much about what you think, where you go off the field and how long your hair is. They are only interested in performance on the field.
I don't expect miracles, but I'm confident I can make it with the Steelers. I've always gone into everything with that kind of attitude and so far I've never been wrong."
Considered to be one of the best tight ends in pro football, former San Francisco 49er Ted Kwalick, signed for the Philadelphia Bell of the World Football league. Kwalick had shown an interest in signing for the Super Bowl champions, but the Steelers had decided to stick with what they have.
"We are satisfied with the guys we got," said Dan Rooney without mentioning Brown by name. "We sat down and talked about how we run our offense," added Rooney. "We talked to Chuck about the way we use our tight end with blocking and the whole bit. We decided the guys we got fit into our whole situation better than Kwalick does. Considering all these things, what he was asking for was out of line for us."
The Steelers had discussions with Kwalick' agent, Lowell Morse, but never became close to signing him. Morse observed, "It was difficult to make any headway in the NFL because of this archaic rule," said Morse identifying the Rozelle Rule as the major obstacle to signing with the Steelers.
Kwalick enthused about the league he was signing with, "The WFL is the best thing that has come down the pike from the players' standpoint. I've seen a lot of players who can play not be given a chance in the NFL because of the limited rosters (47 players). The WFL is helping young guys."
Reflecting on his experience at Tokyo's Camp Oji Hospital Bleier said, "I'll never forget it. My bandages hadn't been changed for four days. I was just there, not knowing what would happen, when a doctor came up to me and began examining the wounds."
Bleier's right leg and foot had been nearly crushed during enemy action. "He stuck a forceps in my foot," added Bleier. "I was really in pain. I was really in pain. I jammed my fingers into my bed and the prints are still on that thing. He's the main reason I'm playing football today."
The NFL changed the system that decided which team would be designated as the home team in the playoffs. Previously, conference champions rotated annually in securing home advantage.
In June 1975, the NFL changed to the seeding system that is still in use today.
The league also decided to play the Pro Bowl game in the two new expansion cities of Seattle and Tampa.
The Steelers number 8 draft pick, Tom Kropp, signed a multi-year contract to play pro basketball with the Capitol Bullets.
Joe Greene shrugged off any suggestion that the Steelers would begin the new season as champions with any less desire to win the Super Bowl. "We've had a taste," he told the Pittsburgh Press. "We want another drink. There's no way we'll get fat. Chuck Noll wouldn't let us. Anybody who thinks we won't be after people again is nuts."
After months of hesitancy and conjecture, L.C. Greenwood finally signed with the Steelers June 17th. It was suggested that the contract was three years for an annual salary of $65,000. "I'm glad it's settled, so I know where I'll be working this year," offered Greenwood. His return ensured the Steelers defensive front four stayed the same… Greenwood, Joe Greene, Ernie Holmes and Dwight White.
Greenwood had been contacted by other NFL teams after he had played out his option year, but with the Rozelle Rule still before the judge, it had been suggested that NFL teams had agreed between themselves not to court free agents. Dan Rooney didn't agree with this idea, "We approached this in the context that L.C. Greenwood was a great player who was a Steeler and that we wanted him back. It wasn't a question of compensation.
The Steelers number 8 draft pick Al Humphrey decided to play in the Canadian Football League as he didn't think he'll make it with the Steelers.
At the end of June and for most of July, a month long newspaper strike in Pittsburgh meant reporting on the Steelers and the opening of their training camp was sparse. It was noted that Dan Rooney was now the president of the franchise with Art Rooney remaining as chairman.
If anyone was in doubt about coach Noll's commitment to follow up his team's Super Bowl success, those doubts were cast aside when the Steelers held a 16-play scrimmage just two days into camp. It was the earliest in Noll's seven year time with the team that he held a scrimmage.
Cut by the St. Louis Cardinals after three games of the 1974 season, it looked as if Harrison's pro football career was finished. "You've got to keep the faith," he said. "As long as you keep the faith, things will work out."
The Steelers picked Harrison up for a few games at the end of the '74 season after Frenchy Fuqua was side-lined with injury. With Fuqua back healthy for the hew season, Harrison was expected to have a tough job winning a place on the roster. That changed when Steve Davis decided to quit football. "Steve was a good friend of mine and I'm sorry he didn't come back, but maybe it's a break for me and I want to take advantage of every break. Breaks don't happen too often."
1975 STEELERS vs COLLEGE ALL-STARS GAME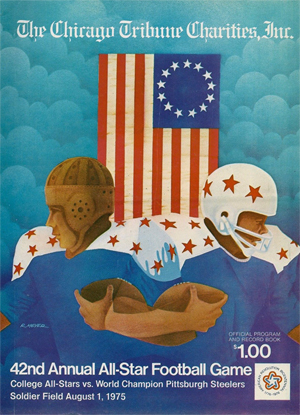 Over the 42 years the All-Star game that pitted the Super Bowl champions against an all-star college team, $13 million had been raised for charity. The Chicago Tribune, who sponsors the game, is considering a different format, but for 1975 the Steelers were featured and in their review of the game, the Pittsburgh Post-Gazette suggested the Steelers may have saved the event.
Before the game, played in Chicago, Mayor Richard Daley honoured Art Rooney, awarding him the Chicago Medal of Merit.
The All-Stars struck early in the first quarter. With Steve Bartkowski, the number one pick of the 1975 draft leading the team, their first series took just over five minutes to go 80 yards in four plays and take a lead of 7-0.
After a short series from the Steelers, Pittsburgh's next possession saw Terry Bradshaw direct an 87-yard drive finished by a 2-yard touchdown pass to Randy Grossman. Reggie Harrison made a contribution to the drive, once again highlighting his involvement.
After tying up the game, coach Noll decided to play most of his second string on offense although keeping Bradshaw at the helm. With the Steelers being forced to punt after being unable to make any progress, Bears' draft pick Virgil Livers, went 88 yards for the longest punt return in the game's history for a touchdown. The All-Stars went in at halftime with a 14-7 lead.
Even though Noll bolstered his offense with his starters on offense for the third quarter, the All-Stars managed to keep the Steelers at bay. For the final quarter, Noll decided to put quarterback Joe Gilliam in charge. He directed drives of 42 and 45 yards that were completed with a 4-yard touchdown pass to Rocky Bleier and then a 21-yard touchdown pass to Frank Lewis.
The Steelers came from behind to win 21-14 and Art Rooney observed, "You know, Gilliam looked good out there tonight," before mischievously adding, "people are going to start talking about the quarterbacks again."
POST GAME COMMENTS
After the game coach Noll offered, "We had a lot of people who didn't have a good night."
Reflecting on his poor performance, Bradshaw said, "The killer instinct wasn't there. We knew what was going on. We tried to get ourselves mentally ready, but there was no spark. Maybe we were a little fat and lazy. If you're fat and on top, you shouldn't have to learn that everybody is going to try and knock you off.
But it's nothing to panic over. You just work harder and pray for a good dry field." The latter reference because he mentioned he had trouble throwing the wet ball at times.
"You don't lose your job playing poorly in one game," Noll said, but the quarterback controversy, that is so much a part of Pittsburgh football will begin to flourish after fading in the glow of their Super Bowl victory. That's the price of having several quality quarterbacks in the team.
DECISION TIME APPROACHES
After the the College All-Stars game, coach Noll moaned that the team's injury list was the longest he had seen in three or four years. Due to face the Philadelphia Eagles in their first exhibition game against a league team, player injuries were increasing. Guard Sam Davies followed cornerback Mel Blount, rookie receiver Bob Gaddus and Reggie Harrison were scratched from the Steelers' next game.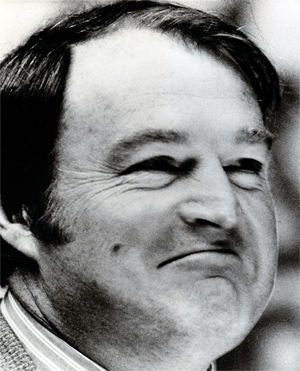 Even before the injury list increased, Noll planned to give his rookies their chance on the field against the Eagles. "I think this is the time to find out where they stand. We have to see how well they can stand up to the pressure," he said.
Devoting the final practice before playing the Eagles to special teams, Noll explained, "We were terrible on special teams last week. We were whipped at every turn and I don't want that to happen again. We'll probably use different people."
With each team's roster cut from 47 to 43, the opportunity for both rookies and veterans to impress during practice and exhibition games was vital. "An injury at this time of the year can kill a player, especially a rookie," Noll offered. "Practice is a learning experience, but the games are where you have to put that knowledge to best use under the pressure of a big audience and the competitive situations a game presents.
If you miss the extra practice time you get during training camp and the games… well, that can be fatal to a rookie."
The Post-Gazette highlighted that coach Noll was unlike many coaches as he refuses to use rookies en masse. He prefers to spot them one of two at a time when the game is on the line. "You learn more and you learn it faster," Noll explained.
"When a mistake is made, it is much easier to pinpoint who deserves the primary blame. If you play them all at once, the mistakes can be too abundant to analyse properly. The same goes for determining who can best cope with the pressure and who contributed most to a winning situation. So, we'll use our rookies a lot, but not in big bunches."
Rookies, John Banaszak and Mike Collier, were the players expected to benefit from additional playing time in the Eagles game. The Post-Gazette suggested the chances of running back Collier making the team a month ago were nil. When Steve Davis failed to report to camp and with the injury to Harrison, they estimated the chances of Collier making the Steelers had risen to slim.
It was hoped that Banaszak would take full advantage of the opportunity he would be given. "He has been extremely impressive," Noll admitted, "but we still have to see how well he handles game pressure and game situations."
"We'll play to win against the Eagles of course," Noll added, "but we'll use a lot more of our players a lot more often. Cutting the team has never been easy or pleasant and with the smaller player limit this year it might even be tougher.
THE STEELERS FACE THE EAGLES
True to his word, coach Noll used the exhibition game against the Eagles to take a long look at his new players. "We accomplished exactly what we wanted to accomplish," the coach offered. "We wanted to play our rookies and backup people under pressure and that's what happened.
It wasn't that we were trying to lose. In fact there was a tremendous temptation to put the regulars back in during the fourth quarter to see if they could pull a win out. But, by then, they were cold and the injury risk would've been too great.
Some of the rookies looked pretty good though. We'll play the regulars more and more the closer we get to the regular season, but this won't be the last time we'll give the rookies and backups a good look."
Although the paying fans may not have approved of Noll's tactic of keeping his starters on the sideline for most of the game, Noll explained, "We played those people so we don't make a mistake on the cuts."
EAGLES HAND THE STEELERS PRESEASON DEFEAT
The Steelers dominated the Eagles in first downs and rushing yards, but it wasn't enough to beat their local rivals in Three Rivers Stadium. During their first five possessions, the Steelers scored twice and failed on two field goal attempts, having one blocked and missing with the other.
After a halftime lead of 14-3, two Steeler turnovers in their own half presented Philadelphia with scoring opportunities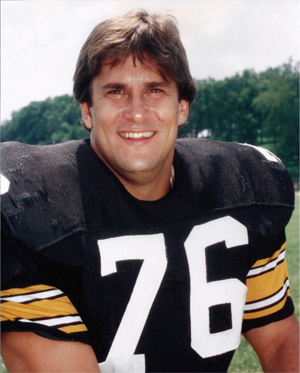 that were snapped up to giving the Eagles a 17-14 result.
Chuck Noll recognised that the special teams had improved 100% since their dismal showing in the College All-Stars game, but also acknowledged there was still area for improvement.
Of the rookies Noll commented, "Banaszak (picture left) handled himself very well. He'll get another look. Collier looked exceptionally good. He deserves and will get another look." In the absence of Franco Harris because of a shoulder injury, both running backs had been presented with a chance to show their ability.
Joe Gilliam (9 of 23 for 72 yards and 3 interceptions) took over in the second half from Terry Bradshaw (9 of 15 for 93 yards).
In view of the lack of playing time he was given, Dwight White joked that it was the easiest night he had played since turning pro. He also recognised that the Steelers next game at Oakland wouldn't be such a breeze.
"That won't be such an easy pay day for anybody," White said. "That won't be just another pre-season game either. No way. Regulars will probably play almost every down in that one."
ROCKY BLEIER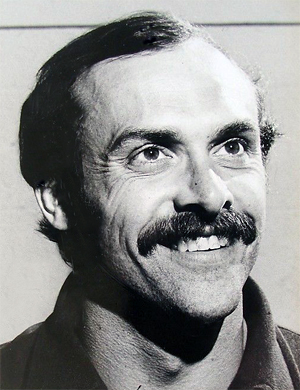 When a reporter asked Rocky Bleier about fellow back Mike Collier, Rocky suddenly realised that he had arrived as a football player and was being recognised for his athletic abilities and not his Vietnam War exploits.
"To me that's what this season is all about," said Bleier. "I want people to start talking about Rocky Bleier the running back, not Rocky Bleier the war hero. First of all, I'm not so sure I was any more of a hero than the next guy. It's just because of football my story received more exposure.
This year I want people to discover that what I did last season was no fluke. I certainly don't think it was, but I'm going to have to have a helluva good season to convince a lot of other people.
Bleier started the 1974 season as the fifth back, but by the time the team were in the Super Bowl, he had advanced to being Franco Harris's junior partner.
In responding to the question about Mike Collier, Bleier said the kid did a terrific job against the Eagles. "He ran like he didn't like being tackled and he showed a lot of acceleration. He's going to make us or some other NFL team an excellent running back in a very short time."
In his new status as being the number two, Bleier recognised it was a new experience for him. "Before, I'd be the guy having to bust his tail trying to win a job. Now I start the games, go all out for a quarter or two, then take things easy.
I've always been the other guy out there. The guy trying to hang on for dear life who kept hoping someone would get hurt so I could play and show my stuff."
Bleier sympathised with Collier. "I remember how tough it was. You have to take advantage of every crumb thrown your way. If you don't, you're on the next bus home. That's a tough way to live. I've been there."
STEVE DAVIS TRADED TO JETS
Steve Davis showed the other side of football. Having lost his starting role as a Steeler running back to Bleier, he failed to show up for the new campaign without explaining why.
A Jets' spokesman said, "Bob Fry (the former Pittsburgh offensive line coach) gave him a good recommendation and Davis was very enthusiastic about coming here."
The Steelers gained a draft pick for 1977 as they already have some extra picks for the 1976
OFFICIAL – OAKLAND WERE THE STEELERS BIGGEST RIVALS IN 1975
When Dan Rooney was asked about the team's next exhibition game in Oakland, he referred to the Raiders as, "Our biggest rivals." The TV network thought so too and felt the game was big enough to switch from Saturday to a prime time Sunday slot so it could be broadcast nationally.
Having been knocked out of the playoffs by Pittsburgh in two of the previous three seasons, including the magical Immaculate Reception game, Terry Hanratty thought, "I think Oakland will be looking for some type of edge over us. I think it will be like a regular season game."
Joe Greene attempted to put the game into perspective when he said, "We'll try to win it, but I'd be less than honest if I said we'd play it at a regular season or playoff tempo. I find myself smiling about this game. It'd be different if it was the last exhibition game. It comes so early, it falls into a gray area. But we're capable of playing the game anyway they want to play it."
Steve Furness added, "This one is probably more like coaches against coaches than players against players."
"Al Who?" said Chuck Noll smiling, adding to the rancour. After the Raiders' loss to the Steelers in the 1974 playoffs, Al Davis had apparently muttered there was no reason for him to go and congratulate Art Rooney on his first championship team.
THE PRESEASON STEELERS AT THE RAIDERS
After being thrashed 34-0 by the Oakland Raiders in their exhibition game, Detroit Coach Rick Forzano commented, "They have an awesome array of players. Everything they did seem to work, and nothing we did went right."
On a night when Oakland Coach Madden used almost all his 75 players, Forzano was asked if the Raiders had a weakness. If they did, I didn't get to see it, but that's no excuse for the way we played."
When the Steelers leapt to a 14-0 lead in the first quarter, the Steelers probably didn't agree with Forzano's analysis. Terry Bradshaw first threw a 26-yard touchdown pass to Frank Lewis before he added his own 55-yard rushing touchdown.
The Raiders hit back in the second quarter with a Ken Stabler touchdown pass. They tied the game with 47-year veteran George Blanda throwing a 53-yard touchdown pass.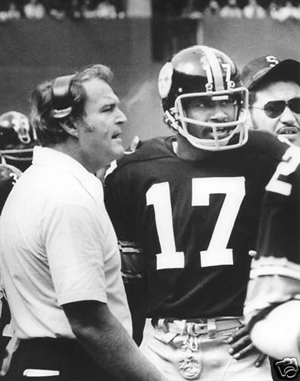 With Joe Gilliam (picture left) at the helm, the Steelers took the lead again in the third quarter with a Preston Pearson touchdown run of four yards.
Unfortunately, five turnovers, including four Hanratty interceptions didn't give the Steelers much of a chance to leave Oakland with another victory. The defeat for Pittsburgh was made worse coming from the hands of the Raiders' fourth string quarterback, rookie David Humm.
He passed his team 80 yards for the tying touchdown before hustling the Raiders half the length of the field to set up the 20-yard winning field goal – kicked by Blanda.
A clothesline tackle on Bradshaw put him out of the game with a pinched nerve and Hanratty suffered a sprained ankle. Almost 58,000 fans turned out to watch this exhibition game with the high interest obviously the result of the rivalry. Most of the home supporters cheered the Bradshaw injury.
After the game, Al Davis said, "They're better than we are, but we can play with them." When questioned about his team meeting the Steelers in the playoffs again, Davis was realistic and replied, "We've got a long, long way to go before we can think about that."
Having refused to talk after Oakland's playoff defeat by the Steelers, this time around Stabler offered, "We remember last year's loss and they'll remember this. The big thing is that we beat their number one people with guys who weren't our number one people"
Chuck Noll offered praise for several players, including Joe Gilliam, linebacker Loren Toews, Jimmy Allen (Mel Blount's replacement) and rookie running back Mike Collier, who ran for 39 yards on 10 carries. "He did a good job," remarked Noll on Collier. "He looks like he's going to be a good one."
Reflecting on the defeat, Noll commented, "Probably the most impressive thing about them is their awesome depth. I'm sure glad they can only play 11 at a time."
HANRATTY OUT FOR THE PRESEASON
When the Raiders' Bubba Smith flattened Terry Hanratty during the Steelers' defeat in Oakland, it clarified the quarterback situation in Pittsburgh. Terry Bradshaw was always going to be number one, but his backup was undecided.
The injury to Hanratty that will put him out for the rest of the preseason ensures that Joe Gilliam will enhance his role as number two. Coach Noll had praised Gilliam for his performance in the Oakland game.
CHUCK NOLL CONCERNED ABOUT LACK OF PLAYER DEPTH
Looking ahead to their next exhibition game in Baltimore, coach Noll observed, "We've got to play the regulars more as we get closer to the regular season. We'll look at some second-line people, only for a lesser amount of time. And some of them have already had their opportunity."
"Yes, I fear a lack of depth," the coach added. "But that could change if they get off their tails."
Noll was hoping the Steelers number one draft pick, Dave Brown, would see some action in the secondary. "I hope he can get in there. But you hate to put a guy in there and he looks like hell when it's not his fault."
After already making five cuts, it will be make it or break it game for the other backup players. Cut: Millar Bassler, Greg Bankston, Marty Smith, Bruce Leimer and placed on injured reserve Brent Sexton.
STEVE FURNESS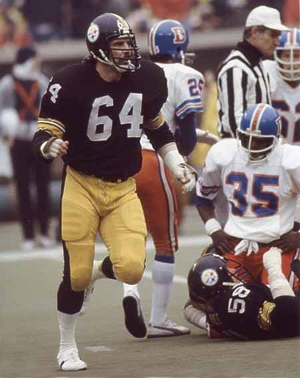 Coach Noll doesn't have to worry depth in his secondary with Steve Furness (picture left) ready to slot in for Joe Greene, L.C. Greenwood, Dwight White or Fats Holmes. Furness only started in one game during the '74 season which shows the resilience of the Steelers Steel Curtain.
When Wight spent most of the week leading up to the Super Bowl in a hospital bed, Furness could have expected to have started in the big game, but it wasn't to be. The Steelers decided not to put Furness in his usual role on special teams in case Wight didn't survive the full sixty minutes. When Wight surprised everyone by going the distance Furness had to watch the game from the sideline.
"Dwight deserved to play," Furness said. "It was his position all year. I was disappointed that I didn't get a chance to do my usual playing on the special teams in the Super Bowl. It was one of those situations."
When Holmes injured his knee leading up to the Oakland exhibition game, Furness was presented with a chance to play. After having a good game, Furness was hoping he would be presented with more opportunities. "I'm hoping that they'll get more confidence in me because I'm getting the chance to play and maybe in the regular season they'll stick me in at times when somebody is tired."
Furness takes his role on special teams seriously. "We take a lot of pride in the special teams and it affects me emotionally if I miss a tackle. On a regular play, if you miss a tackle, there's often somebody right behind you and it doesn't hurt. But on special teams, it can be costly if you miss a guy."
Furness is philosophical. "I'm looking forward to starting eventually. I just hope it doesn't take five years."
NEXT UP FOR THE STEELERS - THE BALTIMORE COLTS
The Steelers went into their preseason game against the Baltimore Colts with suggestions that Terry Bradshaw would contribute some punts, something he had tried in his rookie year.
The Colts controlled the first half quarter to the extent the Steelers only managed six plays. Bert Jones led Baltimore 79 yards before a one yard touchdown run by McCauley completed the drive and put the first points on the board.
Early in the second quarter, Terry Bradshaw threw the perfect pass of 49 yards to an open Lynn Swann to tie the scores. Just before the half expired, executing a two-minute drill, Bradshaw threw four completions to set up a 41-yard field goal.
At the beginning of the second half, Bradshaw led his team on a 98-yard drive that included a completion of 35 yards and a spectacular diving touchdown catch of 17 yards, both by John Stallworth. The Steelers were now beginning to play like Super Bowl champions.
A 34-yard field goal by the Colts reduced the Steelers lead, but the fourth quarter saw Pittsburgh put on the pressure. Bradshaw once again found Swann with a 54-yard bomb.
When L.C. Greenwood recovered a Jones' fumble on the Baltimore 35, Joe Gilliam and John Stallworth combined on a 35-yard touchdown completion to give the Steelers a 31-10 victory.
"The difference was our big plays," commented Noll. "The two takeoffs to Swann took the wind out of their sails. They drive it down there to get the field goal, then we hit a big one.
This was a good game for us. We needed this kind to remember what it's like. We wanted to get our veterans a longer look than they wanted."
Bradshaw returned excellent figures of 14 completions from 20 attempts for 254 yards and three touchdowns. His four punts during the game produced an average of 41.5 yards, suggesting he wouldn't be taking over from veteran Bobby Walden. "I see my role as a punter strictly as a backup," Bradshaw explained. "You can't imagine how scared I was."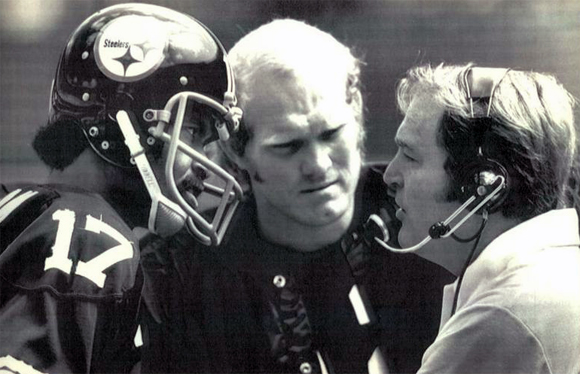 Joe Gilliam, Terry Bradshaw with Chuck Noll
STEELERS TRADE RON SHANKLIN
Ron Shanklin (picture below) was happy about his trade to the Chicago Bears for an undisclosed draft choice. The only downside to the trade of the wide receiver was the missed opportunity the previous year that would have sent Shanklin to Minnesota for a number 1 draft pick.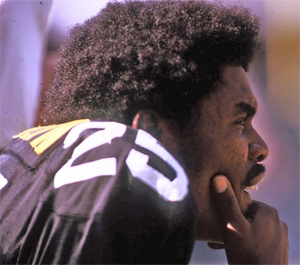 Rejecting the idea of a trade for another player, Noll said, "One problem we have is numbers. We don't want to bring in a player unless he's some kind of phenom. We haven't been able to swing that kind of deal. There's no sense brining in people you're going to cut."
Although he felt he didn't get the best of the deal, Noll commented, "The big thing in this case was that Shanklin wouldn't have been happy unless he was playing regularly. He wouldn't be happy playing second string and it looked like it was going to turn out that way.
In a situation like this, if it doesn't hurt the club, we like to try and help. In this case, we could."
Shanklin said, "I'd reached the point where I was telling myself, 'I've got to get out of here.' My primary concern was where. Chicago would've been one of my top choices. I think I can play there."
TERRY BRADSHAW ON HIS PUNTING
"I did everything wrong," said Terry Bradshaw. "Looking at the films, I could see I didn't do anything right. My technique was awful." Bradshaw naturally wasn't talking about his passing ability, he was reviewing his punting during the win against Baltimore.
With the number of players that teams were able to keep on their rosters cut by 4 to 43, there was some talk about Bradshaw taking up a dual role as quarterback and punter. Dan Rooney opposed the reduction in the rosters and was open to anything that would save one of the roster spots.
"I know he can kick better than that," coach Noll offered. "Maybe he's trying to save his roommate's job," a reference to the Steelers' kicker, Bobby Walden.
PRESEASON - THE STEELERS AT NEW YORK GIANTS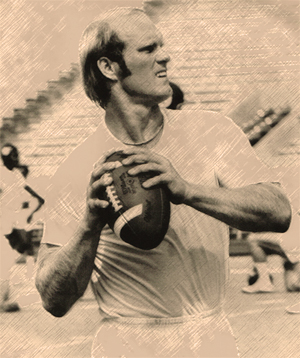 The Steelers took full advantage of an early Giants fumble. Loren Toews hit Giant rookie Bob Hammond and Donnie Shell recovered the loose ball at New York's 14. Three plays later, Franco Harris took the ball in from the five.
Fourteen seconds later, the Giants had tied the game. On their next play from scrimmage, New York's Craig Morton passed 66 yards to Ray Rhodes and the scores were level at 7-7.
On their next series the Giants pulled further ahead, aided by a Glen Edwards pass interference call placing the ball on the one. Morton's 1–yard touchdown completed the drive.
In the second quarter, Roy Gerela's 21-yard field goal attempt faded wide to the right. Steelers' penalties prolonged the Giants' next possession that finished with a 21-yard field goal to give them a 17-7 lead at the half.
The Steelers missed another field goal midway through the third period and squandered other chances before the Giants completed the scoring with a pat Summerall 2-yard run. The final score saw the New York Giants 24, the Pittsburgh Steelers 7. With two exhibition games remaining, the Steelers fell to 2-3 pre-season.
"We blew opportunity after opportunity," admitted Bradshaw. "We stunk. Something was missing. We'd always rather win than lose, but the big thing we've looked for so far this pre-season has been steady game-to-game improvement. Up until now we've had that, win or lose.
Today, we showed no improvement at all. It was awful. Fortunately, it's an exhibition and maybe this will be our low point just like the second Houston game was last year."
Coach Noll could only agree with Bradshaw. "We were absolutely awful," he commented. "We played like losers. We kept looking around and waiting for something to happen and that is the way losers play.
RANDY GROSSMAN
"Nobody is afraid I'm going to muscle them to death," joked Randy Grossman making a reference to his size. The backup to tight end Larry Brown, won the Steelers number two slot with the trade of John McMakin to Detroit.
"I felt confident. I felt I was good enough to play anywhere. I came here with the idea I was going to stay. I'm trying to win the starting on, the same as Larry is playing to keep it. I'm not satisfied with being on the second team." The two year veteran Grossman admits he's not that wild about playing on special teams.
Grossman went undrafted and was picked up as a free agent. "I was very confident I was going to make the team last year."
THE STEELERS SCOUTING OPERATION
The Pittsburgh Post-Gazette told the scouting story of Art Rooney Jr. Each spring, Rooney Jr. makes a lengthy tour of college campuses, checking out prospects for the following year's draft.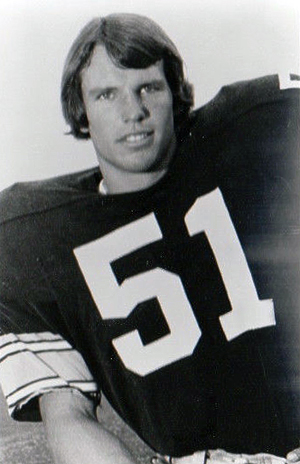 While scouting a Stanford game in Palo Alto, he was told by a college coach that the best prospect in the Bay Area was a small linebacker at CAL named Loren Toews (picture left). Rooney said that Toews was the kind of kid that he gave a cursory look at before kissing goodbye because of his size.
Reflecting on the $300,000 cost of the Steelers scouting operation, Rooney commented, "You hate to see a tip pay off when you spend that kind of money, but that one did."
Eventually Rooney and Player personnel Director Dick Haley both took a look at Toews. "Looking back on it, we did one of our best research jobs ever on him and it turned out good for a change," added Rooney. "I'll never forget the meeting of scouts the week after I got back from Stanford.
Haley started the meeting as usual and right off told me he had a tip on a kid named Toews. I couldn't believe it because I was just about to tell him the same thing. So, we both checked him out real good."
The Steeler used their eighth-round draft pick in 1973 on Toews. "It is the kind of gambling pick that can make a draft successful," said Rooney. "His quickness was what we looked for. We weren't scared off by his size because Andy Russell had played well for years and he's not too big and Jack ham had come in a year earlier at 211 and been super. Besides, Lou Riecke's weight program is great for building up small players.
The kid was smart, a hitter and fast. A lot of teams might have gambled on him earlier, but we don't do much gambling in our drafts any more."
Toews was the standout of the rookie camp and had performed admirably ever since, but backing up Russell and Jack Ham doesn't provide a lot of playing time for a young prospect.
"I still don't know how good I really am," said Toews. "I won't know until I play regularly for a year or two and I try not to think of when that chance will come."
DONNIE SHELL – A SPECIAL PLAYER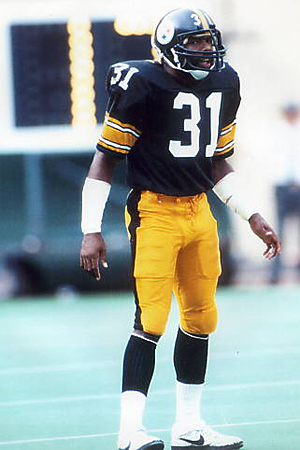 The Pittsburgh Post-Gazette spotlighted Donnie Shell (picture left) as the military officer's dream – a person willing to obey every command with neither question nor hesitation. Those qualities have endeared him to coach Noll and assured Shell of a place on the 43-man roster, even if not as a starter.
As the leader of the special teams, he utilises his 4.6 speed to be the first player downfield for punts and kick-offs. Using a sledgehammer style, Shell seldom misses a tackle.
"I'd much rather be a starter," Shell said, "but since I'm not, I want to be the best special teams player we've got. That's the way I am. I've got to be the best at what I'm doing or I'm very tough to live with.
Given a choice, I'd rather not play on special teams at all – no one would if they had a say in the matter. But, I've always felt I'd be better off in the long run if I gave my best effort to whatever I'm asked to do whether I like it or not."
Shells not only exudes class when he's talking, but he shows it in his deeds. "As soon as I made the Steelers last season, I promised my mother that I's buy her a new house if we won the Super Bowl," he explained. "She deserved it after raising the ten of us on my father's small salary from the mills."
Shell also made a donation to his college. "I just wish more pro football players felt good enough about their college to do the same thing. I felt the school was responsible for moving me up in life. Without it, I'd probably be in the welfare lines every week and stuck in a ghetto like a lot of other blacks from the south. I wanted to say thanks to the people who got me out of that situation."
Even though he was a free agent, Shell never doubted he would make the Steelers roster. "I knew what my talents were. I knew that physically, at least, I measured up OK as soon as the veterans entered camp. The only thing that scared me at first was that I might not be able to learn everything fast enough.
I thing that is more of a hang-up for a rookie than the physical aspect of pro football. I hadn't even played safety in college. I had been a linebacker, so I had even more learning to do than most guys. Once I proved to myself that I was learning, I knew I would make it."
NFL ROSTER CUTS APPROACHING
After five years as a defensive linemen, four in college and one with the Steelers, Charley Davis trained with the offensive line. With the roster reduction to 43 players, coach Noll noted, "Versatility will be the utmost importance in our last two cuts. If Charley or anybody else can play two or three positions, their chances of making the squad greatly increase."
Offensive claimed that Davis was a fast learner. "He wasn't out there more than 10 or 15 minutes and he had already learnt to hold," he joked.
STEELERS CONTINUE 1975 PRESEASON AGAINST SAINTS
Playing without Joe Greene, the Steelers defense dominated the New Orleans Saints holding them to 41 yards in the first half and a total of 187 for the game.
While their defense excelled, the Steelers offense spluttered. Missing an early 42-yard field goal attempt set the tone followed by a Franco Harris fumble. Eventually, Terry Bradshaw took command of his offense. With just over a minute remaining in the half, the Steelers put seven points on the board with a Harris 3 yard run
A Roy Gerela 24-yard field goal followed in the third quarter to give the Steelers a 10-0 lead. A Steve Furness pass interference penalty kept a New Orleans drive alive late in the third period and the Saints managed to reduce the deficit to six points after having their point after attempt blocked.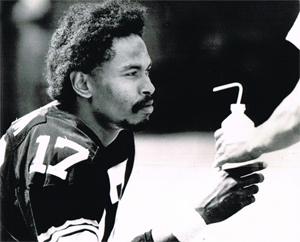 With 12:13 of the game remaining, Joe Gilliam (picture left) came on for an injured Bradshaw. When the Steelers went three and out, the Saints were provided with good field position on their 46. A 50-yard run by rookie back Mike Strachan gave him the opportunity to score on a two yard run and the Saints led 13-10 with 8:18 remaining in the game.
Coach Noll showed how serious he was about winning this preseason game by putting Franco Harris and Rocky Bleier back on.
Gilliam showed that he can still lead the Steelers in the absence of Bradshaw. Following a crucial third down completion to Frank Lewis, Gilliam launched a super 42-yard strike to Lewis in the corner of the end zone. Timing the catch superbly, Lewis reached over the Saints cornerback to pull the ball in and give Pittsburgh the lead back.
As time ran out, Harris increased the Steelers lead with a 9-yard touchdown run that saw him finish with 106 yards. The final score Steelers 24, Saints 13, gave the Steelers a 3-3 preseason record.
Asked after the game if he had seen the light at the end of the tunnel, Noll replied, "We don't know how long the tunnel is."
"I think we needed that game," said Harris. "I think it would have been a tough one to lose."
BRADSHAW KEEN FOR SEASON TO START
Reflecting on his preseason, Terry Bradshaw said, "I've been very pleased except for one thing. I haven't put enough points on the board. I've had the chances, but something always seems to go wrong at the end.
But other than that, this has been my best preseason ever. It's been an easy training period for me too because I lost so much weight and came in in such a good shape. I've been able to concentrate on other things besides conditioning and that has paid off."
I've been ready for about two weeks and I think everybody else has been. I think that's our biggest problem. We've been ready to play a game that means something, but none of them do yet. Once they do, we'll prove how ready we are."
Facing Dallas in their final preseason game, the Steelers will indeed confirm whether they are prepared.
FACING THE DALLAS SPREAD
Preparing for their last exhibition game against Dallas, the Steelers had to devise defensive systems to counter the spread formation the Cowboys had started to use on almost every passing situation and when a defense used a three man front.
Quarterback Roger Staubach lines up at least five yards behind the center. Five potential receivers are stationed in various configurations at the fringe of the formation.
"Three man lines that have become the trend don't give you that same heavy pass rush the four man lines did. That's what started us thinking about going back to the spread.
In addition, the quarterback can get back into the passing pocket a lot quicker, have more time to read the coverages and have more receivers to choose from. By spreading out the defense and increasing the distance of the pass rush, we should be able to pass more effectively against the three man front defense we saw so much of last year."
Maybe the fact that Dallas quarterbacks were sacked a NFC high 47 times in 1974 played a big part in Landry's decision to go with the spread.
Defensive tackle Ernie Holmes labelled it, "a high school king of offense," with the Steelers defensive co-ordinator adding, "We're having to waste a lot of time on it this week when we should be working on things we'll use during the regular season."
The Steelers' linebacker coach Woody Widenhofer simply called it a pain in the neck.
THE STEELERS FINAL PRESEASON GAME AT DALLAS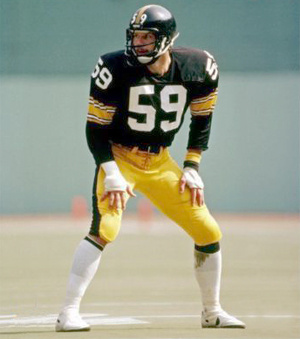 Do the Steelers take anything out of an exhibition game that had Jack Ham (picture right) as their leading receiver until late in the fourth quarter combined with the Cowboys' quarterbacks having more interceptions than completions until the fourth period?
The eleven turnovers (nine interceptions and two fumbles) made the result meaningless from the regular season point of view.
The Steelers found it difficult to get any momentum with just 12 yards on their first two series while giving up seven points to the Cowboys. Punter Bobby Walden muffed a low snap into the end zone where it was recovered by Dallas.
As the first quarter was coming to an end, a Jack Ham interception that he ran back 34 yards put the Steelers' first points on the board, but Roy Gerela's missed conversion meant the Steelers trailed 6-7.
During the second quarter the teams exchanged interceptions several times as ineptitude ruled and there was no further score until the third. With Staubach replaced by Clint Longley, Dallas managed a 35-yard field goal to extend their lead.
The Steelers also replaced their quarterback with Gilliam coming on for Bradshaw, but Pittsburgh game didn't show any improvement until the fourth quarter with a 47-yard field goal.
Midway through the final period, Dallas extended their lead with a 6-yard touchdown reception. Rocky Belier added some respectability to the Steelers' defeat with a touchdown run of 6 yards that made the final score 17-16 to Dallas.
"Actually, our defense didn't play too bad I suppose," acknowledged coach Noll after the game. "But their defense was terrific. Their pass rush was terribly effective. We couldn't block any of their front four."
Andy Russell observed, "We learned a lot of lessons during the preseason. The biggest was that every team we play will have its best game or games of the season against us. We have to learn to live with that.
If we have as much pride as I think we have, we will have learned the lesson well and we'll meet the challenge starting next week."
STEELERS REDUCE THEIR 1975 ROSTER
The Steeler let two rookies and three veterans go as they reduced their roster to 46. Running back Dickey Morton and wide receiver Archie Gray with Rick Druschel, Jim Wolf and Dick Conn.
FINAL CUTS MEANS ONLY THREE FROM THE STEELERS 1975 DRAFT REMAIN
Having built a Super Bowl winning team through the draft, it was surprising that of the Steelers' picks in 1975, only three remained as Pittsburgh reduced its roster to 43
Art Rooney Jr., head of the team's scouting department, didn't attempt to hide his disappointment. "There are a lot of legitimate excuses, but you can't live on excuses," Rooney said. "Ultimately, you can't tolerate excuses. You have to pick up guys who are going to make it."
Perhaps the situation was more a reflection on the NFL's endeavours to level the playing field in professional football by making the best team select last in the draft. In addition, as champions, the Steelers needed to go with players who could produce now. "We might have cut a guy or two who might have been better a couple of years down the road, but our first goal is to win the Super Bowl again this year," Rooney added.
The challenge was made worst by the reduction in each team's roster size. Looking ahead, Rooney commented, "I can't be such a fool as to say we can continue this way. We've got to get more good players."
THE UNKINDEST CUT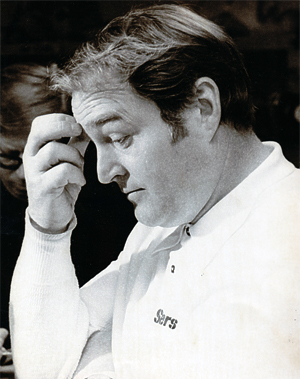 "I feel lousy," coach Noll told reporters as he slumped in a chair. "I always feel this way when I have to cut guys. It takes me a couple of days to get over it."
In his ninth year with the team, Preston Pearson was waived along with third round draft pick, tight end Walter White. Defensive end Charley Davis was traded to St. Louis for an undisclosed draft pick.
Pearson became expendable when both Reggie Harrison and rookie Mike Collier showed in the preseason they were ready to be starters.
Before the cuts, Harrison had enthusiastically told the Pittsburgh Post-Gazette, "I don't think the Steelers can afford to cut me. I'm a strictly an inside, power runner. I don't weave, I don't outrun anybody. I go straight ahead, make the tough yards near the goal line and run over a lot of people. The only other back they have like that is Franco Harris.
If anything happened to him and I wasn't around, where would the Steelers turn? See what I mean. I think I got it made.
The only good thing to happen to me in the last year or so is the Steelers picking me off the streets of Cincinnati. They certainly owe me nothing, but I owe them a helluva lot and I want the chance to say thanks.
MORE PLAYERS UNREST IN NFL
While the fans were looking forward to seeing the Steelers play the Chargers in San Diego, doubt was cast over the season opener when Detroit, New England, both New York franchises and Washington united in voting to strike. The dispute is a carryover from the problems that disrupted the 1974 preseason, mainly the Rozelle Rule that was still being contested in court.
Pittsburgh voted against the strike, as had Cincinnati, Denver, Houston, Cleveland, Atlanta, Minnesota, Buffalo, San Diego, Green Bay, New Orleans, Miami and Dallas.
With just three days left before the season started, the two sides agreed to a truce. It took an all-night session in New York to reach a "memorandum of agreement" that allowed the teams back in camp to prepare for the season.
OAKLAND SET THE AFC STANDARD?
The experts expected that Oakland and the Steelers would meet in the AFC Championship game to decide who would go to Super Bowl to represent the conference. The basis being that the teams would win the AFC Central and Western divisions and eventually meet in the Conference Championship game.
STEELERS FAVOURED
Heading into the new season, everyone including bookmaker Jimmy the Greek picked the Steelers to win their division again with Cincinnati in the second slot. The Bengals had been hit by injuries the previous season and were expected to be the team to challenge the black and gold.
The Steelers had a schedule that meant they only faced three teams with above .500 records. The omens were good for the Steelers to repeat and they had the bonus of facing the rebuilding Chargers in their season opener.