July 25th, Jack Ham's attorney Herb Rudoy told the Pittsburgh Post-Gazette, "We've had an unbelievable, long-term, no cut offer from the World Football League. Almost can't turn it down."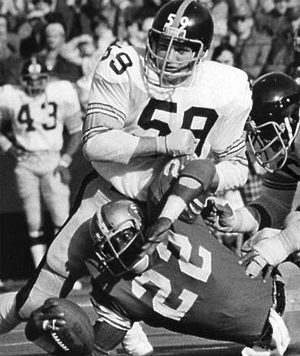 Declining to confirm which team had offered the contract, Ham offered, "I'm very close to signing with the WFL."
Together with the option year, Ham's current contract with the Steelers will take him through the 1976 season. That would mean he wouldn't be available to the rival league until 1977, the same time that Frenchy Fuqua intended to move to the WFL.
In an attempt to keep Ham in Pittsburgh, the Steelers had met with Rudoy the previous week. It was Rudoy who had instigated the negotiations with the new league.
Suggesting it was an obvious negotiating ploy, Rudoy commented, "I anticipate we will get things resolved. Jack doesn't want to leave Pittsburgh, but we're talking about an awful lot of money. We're expecting the Steelers to make a counter-offer. I think a decision will be made next week."
Ham added he was reluctant to leave Pittsburgh, "There's no question about that. I'm from Johnstown and I went to Penn State. I'd like to stay here. But this is something I have to consider." Philadelphia and New York were considered the likely candidate for Ham's services.
ANOTHER NFL DREAM
Rich Fowlkes was working as a security guard in Las Vegas when he attracted the attention of two Stardust Hotel officials while playing for a semi-pro team, the Las Vegas Casinos. Milton Jaffe, a former Pittsburgher and manager of boxer Billy Conn, telephoned Art Rooney and recommended Rich for a tryout with the Steelers.
The only previous player to made the leap from the sandlot or semi-pro to pro football was Johnny Unitas. Unitas was 22 when he made it with the Baltimore Colts after the Steelers had passed on him. Fowlkes is 28 and doesn't have the collegiate football background Unitas had.
"That makes little different to me," said Fowlkes, when was asked if he didn't think 28 was somewhat old to attempt to make the big leagues. "A man is as old as he feels," he added. "Physically, I feel much younger than some of the kids around here. I love those tough practices we've been having. I like the go-go-go."
Coach Noll commented, "No one in camp has worked harder than Fowlkes. He came to us as a tight end and we changed him to a defensive tackle. Rich is learning to play that position well."
Noll was realistic with his observation that Fowlkes would find it tough to beat out Joe Greene, Tom Keating and Steve Furness plus rookie Charles Davis.
Fowlkes said, "The only thing those fellows have on me is experience and know-how. I know I can make it here. I always thought I could make it in the big leagues if somebody game me a chance. I have to work hard. I thrive on hard work."
At 248 pounds, Fowlkes had only lost half a pound while in camp despite an all out effort to make the team. He played cornerback at Oregon Tech for one year before an "I-don't-give-a-dam" period in his life. He just drifted before meeting a girl who encouraged him to seek better things in his life and pick up his football career.
Having heard about the tough semi-pro league in Vegas, Fowlkes decided to try and make it there and as a consequent was now in the Steelers training camp trying to make the pros.
THE NFL START THEIR EXHIBITION SEASON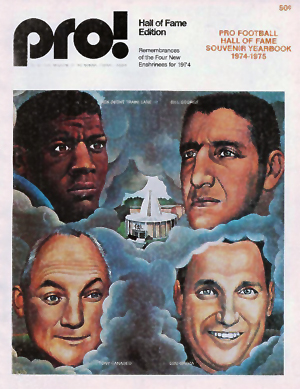 Saturday 27th July saw the first game of the exhibition season played when St. Louis beat Buffalo in the Hall of Fame Game.
Almost a month into the strike and with the negotiations still dormant, reality returned to the NFL with the players and owners agreeing to resume talks on Tuesday July 30th under the supervision of the top federal mediator W.J. Usery Jr. Director of the Federal Mediation and Conciliation Service, Usery confirmed he would take personal charge of the talks.
With the Steelers first exhibition game due in a week, coach Noll was still working out what players he would use. With a final short scrimmage scheduled for Sunday, the workout should decide his starting lineout with the quarterback, running back and linebacker positions proving to be the most competitive spots.
With no veterans to call on, the Pittsburgh Post-Gazette projected the quarterback slot as a battle between Frank Kolch and Leo Gasiencia. "Leo has a good arm," said Noll. "He's picked up our system well. He's a bright kid." As a free agent, Gasiencia had tried out with the Giants in 1973 before going to West Chester in the Atlantic Coast League.
The rookies given the best chance to start against the Saints were center Mike Webster, left guard Rich Druschel, right guard Jerone Hodges, left tackle Dave Reavis ('73 draft pick) right tackle Allen Sitterle.
On defense, linebacker spots were obviously headed by Jack Lambert and Mark Gefert with Jim Allen at right cornerback and Bruce Henley at left cornerback.
The 38-play scrimmage played on the Sunday saw Gasiencia complete six of eight passes for 65 yards with Quincey Daniels had the longest run of 42 yards. Nate Hawkins caught three passes for 48 yards.
JOE GILLIAM ENTERS CAMP
The Monday before the contract talks resumed saw the Steeler strikers' solidarity begin to crack. Noll's fears regarding his quarterback would have faded when Joe Gilliam (pictured left) entered camp with safety Dennis Meyer. They joined receivers Barry Pearson, Glenn Scolnik, Dave Davis and defensive end Craig Hanneman who returned to the team the previous evening. Defensive tackle Steve Furness also crossed the picket line Monday evening.
While those indications of capitulation were being signalled, the other veterans held a team meeting at the Hilton Hotel for an update from their representative, Preston Pearson. He said he would also contact all the out of town Steelers by telephone to inform them of the developments.
With a quarterback controversy already in the offing between Gilliam, Terry Hanratty and Terry Bradshaw, Gilliam was probably hoping to get a head start by going into camp early, although he denied it. "That didn't figure in my decision at all.
It was a personal decision. I weighed the pros and cons. It was a very difficult decision to make. I made up my mind to report, and then changed my mind again. I'm doing what is right for me. The other guys have their thing and I have mine."
Noll was doubtless pleased to have a quality quarterback to prepare for Saturday's contest in New Orleans. Noll commented, "He looked good enough today, considering it was his first workout. But it'd more than a matter of being in shape. A quarterback has to learn the people he's playing with, especially the receivers and that takes time."
BRADSHAW ARRIVES IN PITTSBURGH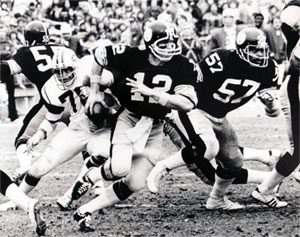 With the players strike almost a month old, Terry Bradshaw arrived in Pittsburgh and was keen to squash any rumours regarding his entering camp. "I'm here to stay. I came in to get squared away with an apartment and a car, but as far as the strike is concerned, I'm going to stick it out."
Before Bradshaw managed to seal his position as the Steelers number one and bring the city four Super Bowls, the usual Pittsburgh quarterback controversy was always simmering just below the surface.
With Joe Gilliam now in camp, Bradshaw commented, "I can see why Joe would report to camp. We've got a game coming up and I guess he's got a chance to play in it. This is his opportunity to play. It was his own decision and I understand why he made it."
Bradshaw told the Pittsburgh Post-Gazette that he had been wavering all summer about what to do if there was a strike.
I've signed a new contract and the club gave me a nice raise. But if I went to camp, I know there'd be heat on me from the players and I don't need heat. I'm caught in the middle, but I've got to stick with the players."
Gilliam was joining close to 250 veterans, approximately a quarter of them starters, who had entered training camps across the United States. Because of injuries to Bradshaw and Hanratty in 1973, Gilliam played in five games that season and as with every training camp, starting positions were always open to competition.
To complement the riches at their quarterback position, the Steelers' number one draft choice, Lynn Swann, was showing the potential in camp that was expected when they Steelers drafted him.
STRIKING STEELERS STAY SOLID
Tom Keating, the Steelers defensive tackle, and vice president of the players' union, didn't think the return of the eight Steeler veterans to camp would damage the resolve of the strikers. "The Steelers are still together on this strike," he commented. "I see trouble spots in places like Oakland, Cincinnati and Miami, where a lot of regulars have reported, but I don't think Pittsburgh is in that position. The Steelers are still together. When we go in, we'll all go in."
As ticket sales for the weekend's exhibition games dragged, Federal mediator W.J. Usery, was struggling to reconcile the two factions. Although Usery said that substantive issues had been discussed, the two sides were still miles apart. AP reported that Usery's goal was to get each side to submit to arbitration.
At the end of July, three more veterans crossed the picket line. Offensive tackle Gordon Gravelle, linebacker Ed Bradley and running back Ernie Holmes went into camp.
MIKE WEBSTER'S FIRST CAMP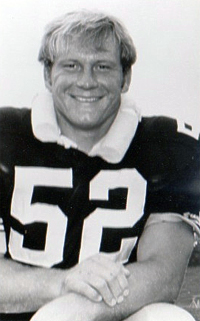 Draftee Mike Webster (picture left) had made such an impression in camp that he had earned his spot as the starting center for the Steelers first exhibition game. With veteran center Jim Clack coming in from the cold and participating in practice, the signs were ominous for 33 year old veteran Ray Mansfield. Mansfield, who had put a 154 consecutive games streak together, observed, "Jim's reporting puts me in a hard position. It makes it harder and harder to stay away."
"When we started this strike," Mansfield added, "we were all going to stick together. Now I don't know. I have this feeling that in a little while there may be only four or five of us left, dying on the outside.
There's no point in me going in now because I wouldn't be able to play in New Orleans anyway. But Monday…I've got to think about it. I'll wait until Monday."
It was reported that several players tried to dissuade Clack from going into camp with the argument that at 235 pound, Webster was too small to succeed as a center in the NFL.
With several more days of training behind them, other starting positions were slowly being inked in. Leo Gasienica would open as quarterback with Joe Gilliam as backup. The Steelers were four point favourites.
The smallest crowd to watch a professional football game in RFK stadium, 16,403, watch the beginning of a new era in Washington when Joe Theismann made his first start for the Redskins. New England won 21-16.
STRIKE CONTINUES
As the players strike carried over into August, the negotiations between the union and the owners had still not made any advance. Although substantive discussions had taken place, it was reported that Federal mediator U.J. Usery's goal was to get each side to submit to arbitration.
Against a background of industrial strife, the Steelers' organisation was preparing for the exhibition season with a limited amount of seasoned talent to sift through. Rookie Mike Webster had made an impact in training camp and was projected to be the starting center.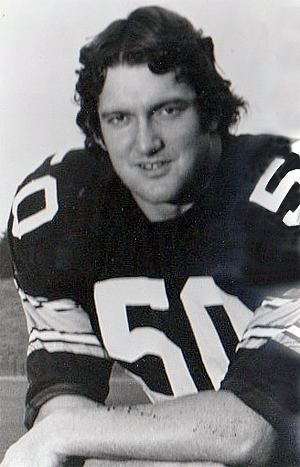 With veteran center Jim Clack (pictured left) coming in from the cold and participating in practice, the signs were ominous for Ray Mansfield. 33 year old veteran Mansfield, who had put a 154 consecutive games streak together said, "Jim's reporting puts me in a hard position. It makes it harder and harder to stay away."
Mansfield added, ""When we started this strike, we were all going to stick together. Now I don't know. I have this feeling that in a little while there may be only four or five of us left, dying on the outside.
There's no point in me going in now because I wouldn't be able to play in New Orleans anyway. But Monday… I've got to think about it. I'll wait until Monday."
Clack was petitioned by his striking teammates not to go in on the basis that at 235 pounds, Webster was too small to succeed as a center in the NFL.
Despite Joe Gilliam's entry into camp, it was thought Leo Gasienica would open at quarterback using Gilliam as backup. Las Vegas made the Steelers four points favourites.
Before the first full weekend of exhibition games, the two adversaries were still trading blows with no end of the strike in sight. The Management Council accused the players of being uncompromising in their demands suggesting the two sides were $3 million apart.
For the players, Bill Curry, said his group had made substantial changes in its bargaining demands, adding the owners had not increased their offer by one cent during the past three days and were continuing to attempt to bust the union. Curry said that, "despite all the pressures and all that has been brought to bear on the players, the union's response to the strike had been phenomenal, confirming that 1,183 players were on strike.
The Management Council counted by saying 300 veterans were now in camp while mediator Usery confirmed he couldn't see an agreement being reached.
STEELERS FLY PAST THE SAINTS IN FIRST EXHIBITION OF 1974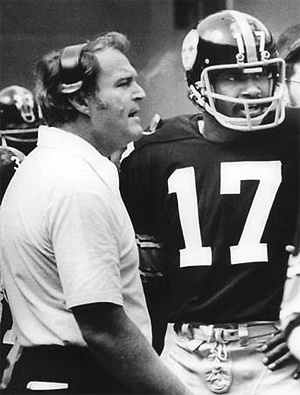 With veteran Joe Gilliam at the helm, the Steelers overcame the Saints in their first exhibition game.
Using 48 of the 50 players available to him, coach Noll would have been satisfied with his team's trip to New Orleans, returning to Pittsburgh with a 26-7 victory under their belt. Receivers John Stallworth and Lynn Swann were the stars while Gilliam took full advantage of the opportunity offered completing 11 of 19 for 158 yards.
Gilliam wasn't totally pleased with his performance. "I don't care about the stats," he commented. "I still have to improve my timing. It's not where it should be." Although his contribution wasn't perfect, Noll was complimentary of his quarterback, "Joe's produced every time we've called on him. You can't ask more than that." Noll added, "And I liked what I saw of Swann and Stallworth. They are a couple of fine weapons."
The Steelers had problems with the new hold-fast rule on punt coverage, for which Noll accepted the blame. "We don't have a feel for the rule. Maybe that's because you don't have a feel for something you don't like.