Preston Pearson, the Steelers Players rep, visited the stadium and expressed optimism a strike would be avoided. He cited a breakthrough on the Insurance issue as the reason for his optimism.
In an attempt to agree on a new contract, the National Football League Players Association (NFLPA) and team owners met in Washington May 28-29, with only training camp issues being discussed and no settlement being reached.
Andy Russell revealed he had been contacted by several WFL clubs and offered more money than he currently earns. Retirement rather than jumping ships was more on Russell's mind though. "I just can't find enough time to devote to my real estate company."
Russell commented that his income from Russell Investments was more than his current football salary and was also his future. Russell confirmed he just wanted to be paid a comparable rate as other linebackers in the NFL before saying he felt he had a few more good years left. "My old contract has expired and I have been negotiating with Dan Rooney," he continued.
"It appears the Steelers aren't going to come close to the figure I want. So I will have to weigh a lot of things and come to a decision soon. I have a great feeling of loyalty for the Steelers and I really only want to play for them," Russell revealed.
"But my wife and parents are pressuring me to retire. I really think we have a good chance to make it all the way to the Super Bowl this year. Whether I will be on the squad will depend on the next few meetings I have with Mr. Rooney."
Russell (pictured left) also confirmed he had heard the persistent rumours that Greenwood was seriously considering going over to the WFL, so he wasn't surprised when he signed.
"We are going to miss him, but at least L.C. will be here for the 1974 season," Russell observed. "And I am certain that he will go all out for the Steelers. He has a lot of pride and he will help the club in his last season here."
For his final season with the Steelers, pundits wondered what contribution his coach would expect Greenwood to make. Would he be used as a regular starter or to develop his backup Craig Hannerman or one of the rookies?
"I was extremely sorry to hear that L.C. is leaving us," Dan Rooney told the Pittsburgh Post-Gazette. "He is a fine young man, as well as a great football player. He was good for team morale, very witty and easy to get along with at all times.
He had informed us about a chance to make a lot of money and we told him to go ahead and talk, but to come back to us before signing. He didn't do that."
On the question of the treatment that Greenwood would receive from the Steelers organisation in his final season Rooney suggested, "There are a lot of circumstances involved and it will certainly depend on how things look later. It will be up to coach Noll."
Joe Greene also expressed regret that Greenwood would be leaving. "I certainly hope it doesn't upset our team, but I don't blame L.C. if he has bettered himself," Greene commented. "I believe we have the best front four in pro football and hate to break it up. But everyone must look out for himself. I know Greenwood will give the best for us this year. "
Greene added that several World League clubs had contacted him indirectly, but he had told them he was not interested. "I have a commitment to Pittsburgh and I intend to play for the Steelers as long as I am in the game."
NFL HEADS TOWARDS STRIKE
In the first week of June 1974, with less than a week before resuming contract negotiations with the NFL Players Association, the NFL Management Council released audited financial statements showing an average operating profit of $472,500 (after tax) for each team for the 1973 season.
That figure represented a 7.6% average profit pre franchise, although two of the teams did lose money. Houston was one of those teams, announcing a deficit of $459,000.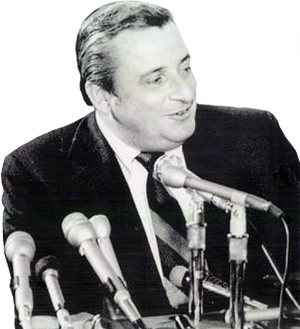 The report was presented to the Players Association and to the mediator for the talks. Cleveland Browns owner, Art Modell (pictured left) commented, "We felt it was time to put it into perspective, accurately, the dramatic myth of pro football's profit structure. We wanted to set the record straight and give it some clarity that it has needed for some time."
Modell pointed out that the figures in the report represented the 1973 season and did not reflect added expenses incurred as a result of a salary bidding against the WFL. "I can tell you that in my conversations with a number of clubs, their increased share of TV revenue for 1974 has been wiped out by the costs of individual player bargaining."
The figures revealed the players costs accounted for 39.2% of each teams' outgoings although the Players Association estimated those costs at 28%.
Income revenues were broken down as ticket sales 62.1%, television and radio 27.4% with programs and concessions at 4%.
Prior to their June 11 meeting with the owners, the NFL Players Association added pressure by declaring they would strike July 1 if no contract agreement had been reached. Edward R. Garvey, executive director of the NLFPA confirmed the walkout would include rookies, forcing the cancellation of the College All-Star game due to be played against the Miami Dolphins, the current Super Bowl champions.
The All-Star game was an annual event between the NFL and college seniors from the previous year. With the merger of the two pro leagues, the NFL representatives were that year's Lombardi trophy winners.
Following on from their May meeting, both sides were seeking to reach agreement on the important issues. The rhetoric over the "freedom rules" revolved around a clause that bound a player to one club and the Rozelle rule requiring compensation for a player who, having played out his option with one team, signed with another.
After two days of talks, the discussions were brought to an end by what the NFL's Management Council called a "walkout." Bill Curry, president of the players, retorted, "That simply isn't true. No one got up and walked out. Certainly not the players."
Curry insisted the talks ended at the suggestion of Jim Scearce, the federal mediator who presided over the week's discussions. He said he was uncertain they would resume as scheduled the following Tuesday in Washington.
Wellington Mara of the New York Giants issued a statement on behalf of the Management Council that said:
"The break off is both tragic and irresponsible. No matter what their original motivation, the totality of the players' freedom demands would result in each of the 1300 selling their services to 38 football teams in the United States alone each year without concerns for teams, teammates and fans.
We do not think we could represent the resultant product to our fans as a truly competitive brand of football."
Dan Rooney was philosophical about the impending strike threat. "There's a lot of sabre rattling, but that's not unusual. I am still very hopeful there will be no strike." Hey was still optimistic about the forthcoming season, despite the threat of action by the players hanging over the continuation of talks. "Opening of camp is still a month away," Rooney declared.
Regarding the departure of Greenwood, Rooney praised Joe Greene's position on the World League. "Joe phoned me when the World League first started approaching NFL veterans and said he had been contacted by several of the new clubs, but had turned them down immediately.
He also offered to talk to any of our players to try and dissuade them from leaving. And he has done just that. It's not only a question of loyalty, but also the fact that he believes we have a winner with a real chance to make it to the Super Bowl."
The threat of a players' strike also hung over the rookies who, being new to the game, were eager to make an impression of the right kind. They were keen not to stand out as targets that the conservative owners could make an example of while they tried to maintain firmness with the veterans.
Lynn Swann said he planned to report to camp. "I made up my mind a long time ago before anyone put the pressure to me that if there's going to be a strike, I will report to camp. I don't think my opinion should have any weight on whether anyone else should go or not go and nobody else's opinion should have any weight on whether I should go or not."
A few days later, with players gathered for the 14th annual Coaches All-American Football game in Texas, Swann told reporters, "Yes, I definitely think there will be a strike. I'm going to camp, but I'm for what the NFLPA are going on strike for.
I feel the NFLPA is very understanding about the position that we rookies are being placed in. It's unique. Nothing like this has faced a group of players coming out of college football."
Bill Curry, president of the NFLPA, joined the All-Star players and asked them to boycott camp starting July 1st should there be a call to the picket lines by the NFLPA. Swann commented, "Curry told us that negotiations would go much quicker if there were no rookies in camp. He said things could drag out if rookies are working in various NFL camps."
Being new to the professional game, the rookies did not fully understand the issues and Swann confirmed the rookies were confused and added he didn't appreciate the NFL commissioner had such an iron hand on fines and settling grievances.
While the media were focused on the All-Stars game, L.C. Greenwood (pictured left) re-appeared in Indiantown Gap with the 107th Field Artillery of the National Guard, where he was serving his time as part of the reserve service.
Reluctant to talk about the financial inducement that persuaded him to switch leagues, he would only comment they were "very good." He declined to discuss his prospects in his final year with the Steelers.#
"I haven't talked to anyone in the Steeler organisation. Until I do, I don't want to talk about it." Although Greenwood did add that he was looking forward to retiring from football with plans to go into the manufacture of men's clothing.
On June 25, less than a week from a potential strike, talks resumed between the players and the owners. John Thompson, director of the NFL Management Council, said he had brought several counter proposals to the multiple of the players' demands.
To the question of whether there was any possibility of a breakthrough that might at least produce a postponement of the July 1 strike deadline, Ed Garvey director of the players association replied, "No, I'm rather pessimistic about that.
If they were really trying to bargain, they would have been here last week. There's been no indication they would make an offer we can discuss."
"Even if the owners were to make some concessions," continued Garvey, it is unlikely that the players would withdraw the strike threat without an overall agreement.
After two days of talks, it became evident that there would be no concessions by the owners to the players' 63 demands. The money-spinning exhibition season was now in danger as the talks broke up.
"Nothing has changed since March 16," commented Bill Curry, president of the NFLPA. "We said freedom and they charged us with anarchy. They have not put forth a meaningful response to our demands."
Curry confirmed that picket lines have been set up and would be established at each of the 26 NFL training camps, beginning in San Diego on July 3. The union also confirmed it would try to prevent rookies from reporting to camp and planned to picket the annual College All-Star game in Chicago July 26.
"We're resigned to a strike," said John Thompson when the talks collapsed and on July 1 it became fact. The players withdrew their labour and began to plan their picket lines.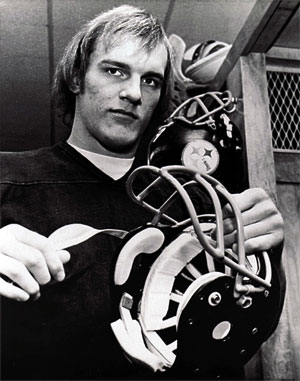 The rookies, keen to get started in a glamorous career as a professional football player, were reluctant to put their livelihood in doubt. The Steelers number two draft pick, Jack Lambert (pictured left), said, "If I was established and a member of the union I would honour the strike, but I am not, so I will report to camp."
Dan Rooney said he expected all the 45 draftees and free agents to report on July 15 and was also hoping the vets would join them on July 17 as was scheduled.
The union's Bill Curry held a news conference at which he accused the owners of exploiting the rookies. "Every demand we have made will be to the advantage of these young fellows," Curry stated. "The owners will play them and they will think they have made the team, but what will happen when the strike is over and the veterans report - they'll be dropped."
John Thompson for the Management Council responded vigorously to the union's unfair labour practice suit, "The substance of the union's charge is nonsense. The union's definition of meaningful bargaining is total acceptance of its demands.
The union prefers litigation. No bargaining, no discipline and not football. The union says we are trying to bust it. The quickest way to do that would be the union way to break up the league by our complete acceptance of their 90 demands."
In response, Garvey charged the club owners were intimidating the rookies by telling them they will lose their bonuses if they don't report to camp."