CHUCK HINTON
"Three's the charm" is an age-old axiom related to the trials and tribulations of luck and superstition. Many people will scoff at such believer. Chuck has to believe in it. Chuck Hinton, defensive tackle for the Steelers, is one such believer. Chuck has to because for him it's the story of his professional football career.
A conversation with the big tackle is hard to come by, not because he's unfriendly but rather because off the field Chuck Hinton is a quiet, self-conscious individual who'd rather not talk about himself. It's hard to believe that he is so quiet when you see him play on Sunday. One of his teammates best summed it up when he said, "Chuck is a man of very few words, but one helleva lot of action."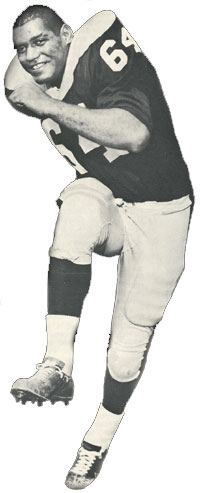 Chuck smiles when you mention this to him, for it hasn't always been this way. "It's just in the last three or four years that I've found myself and have been able to accomplish something I had always dreamed about."
That dream, to play professional football, was very hard to come by. Even from his early high school days, football was Chuck's only concern. He was a standout tackle for Ligon High School in Raleigh, North Carolina and then later he moved on to North Carolina College.
"In high school, football was my whole life, nothing else mattered. I'm glad it was, because without it I would never have been able to go to college. Where I am today has all come from football."
At North Carolina College, Chuck was shy but he was determined. His determination paid off when the Cleveland Browns drafted him NO. 2 in the '61 selections. Professional football, Chuck soon found out, is nothing short of violence.
"I don't know what happened to me there (Cleveland)," he remembers, "I just couldn't do anything right." Chuck had determination but the Cleveland vets had experience. Cleveland thought he was fighting a losing battle so they released him.
Baltimore needed a defensive tackle, so Chuck reported to their camp with new hope and a lot more determination. The story, however, was the same: "I wasn't scared," he relates, "just so nervous that I botched things all up. I knew I had no experience, but no one really tried to help me get it." Baltimore made the same decision as Cleveland and Chuck was released.
CHUCK GETS THE CALL TO PITTSBURGH
Chuck was just about ready to give football up when he received his third chance. Buddy Parker, former Steeler head coach, contacted Chuck and told him there might be a place for him in Pittsburgh. That "place" has since turned out to be a real "home."
The stipulations of the agreement sent Chuck to the Wheeling Ironmen to gain more experience and a promise for a tryout at camp the following summer. The tryout came six short weeks after he had reported to Wheeling, and the third "try" was successful.
The '64 season was the beginning of Chuck's pro career. "The thing that was different in Pittsburgh was that for the first time someone showed me a few tricks of the trade."
Chuck's professor was one of the best. "Ernie Stautner made a ballplayer out of me. He showed me how to dish it out instead of taking it."
What Ernie Stautner started in 1964, Defensive coach LaVern Torgeson has developed in the last two years. "Chuck was just an average player until this season", Torgy relates, "strong and quick, but he was never in really good shape."
Head Coach Bill Austin's conditioning program has since taken care of that. Chuck has worked hard since coming to Pittsburgh, but this year's training camp was his greatest effort to date.
"I used to tire real easily, Chuck says, "so this year I made up my mind to get in real good shape and stay there."
The extra work at training camp has paid off this season. Of all the defensive lineman, Chuck has been the most consistent performer in the first six games. Each Monday the defensive linemen are rated, on a plus and minus scale, on their performance in the previous game. For Chuck, minuses have been few and far between.
"Chuck hasn't been a standout performer in any one game," Torgy tells, "mainly because he's played well in all of them. Chuck isn't noticed as much as some of our players and he's often underrated by the fans and newspapers. But, I'll tell you this, he's made a lot of tackles and put on a good pass rush all season, and believe me, he's not underrated by our opposition!"
When confronted with this information, Chuck is quick to point out that he's just one man of eleven on the defensive unit. "Those other ten guys out there have been playing just as hard as I have. I just happen to have been in the right place at the right time."
Chuck seems to be making this as habit of late, not only on the football field, but off it as well.
During the months between seasons, Chuck lives with his wife, Julia, and their two children, Charles, Jr., and Cyrus, in Durham, N. C., where he works as an interviewer for his neighborhood Youth Corps.
"I really like kids," Chuck tells, "and I know what it's like to have problems and experience failure. I try to talk to them and find out what their troubles are, why they drop out of school, things like that. I really think that I helped a few of them last year and I'm going to try and do even more for them when the season is over."
Chuck Hinton has a lot of class, a lot of modesty, and a lot of determination. He attributes most of his success to "being in the right place at the right time." Steeler coaches and those kids in North Carolina hope that Chuck Hinton will continue to "be in the right place at the right time."
Photos and information from the programme for November 5th, 1967.