STEELER NATION UK'S ADVENTURE TO PITTSBURGH 2012
Our annual adventure to see the Steelers takes a little planning and 2012 was no exception. I wanted to visit one of the last surviving stadiums from the very early days of pro football and when I say early, I mean early. As I was born in Portsmouth, England, it was only natural that I would relish a trip to Portsmouth, Ohio.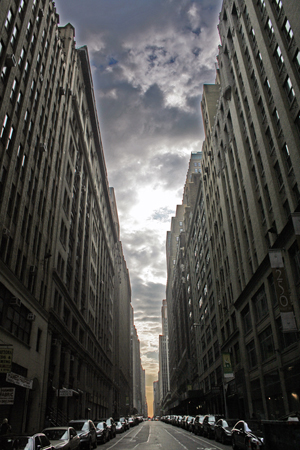 This time we had rookie Clare Horscroft with us. Clare had not seen the Steelers play before so it was going to be interesting to see what she thought about the experience.
As we wanted to visit the Ground Zero memorial in New York, we flew into Newark to enable us to spend a day in New York before driving to Pittsburgh. Two weeks before we flew out, Hurricane Sandy hit the east coast so we didn't know how much of an affect it would have on our visit.
International flights are always tiring and that didn't make it easy to find our hotel after picking the car up. In rush hour and in fading light, nerves were very much frayed. After initially getting lost, we eventually made it. There are some helpful people out there and we owe a lot to the gentleman who gave his time to guide us to our destination.
Saturday morning we took a bus downtown. The Ground Zero memorial opened at 10am so our aim was to get there at that time. Fortunately, being the weekend and still early, New York was quiet so it provided the opportunity to have a leisurely breakfast in a typical New York diner.
We were blessed when the Preview Centre opened as most visitors appeared only to want to view the displays, whereas we were only interested in finding out how to visit the memorial. As we hadn't pre-booked tickets, I was a little concerned we wouldn't be allowed in as Sandy had disrupted the visitor process.
"First come, first-served," we were told so we legged it fairly rapidly the two blocks to the memorial and joined the queue that waited patiently for half an hour before we saw the fruits of eleven years of New York's labour. A permanent, poignant memorial to the tragedy that was 9/11.
As it was Clare's first visit to New York, we did the usual touristy things. There were a couple of places that were out of action because of Sandy, most significantly for me the Police Museum. It's situated almost on top of the East River so probably did sustain water damage.
Travelling by subway and then bus, we made it across to the west side of Manhattan where the USS Intrepid is berthed on the Hudson River. Unfortunately for us the aircraft carrier was also closed because of Sandy.
We finished our busy day by meeting fellow Steeler UK fan Felix and his lovely girlfriend for something to eat and drink. Felix is now resident in New York and it was great to enjoy some time catching up.
Sunday was drive to Pittsburgh day. We took the route via Hershey to visit Chocolate World as Pete likes his Hershey bars. I watched the bands practicing outside for an event being held in the adjacent Stadium while Pete and Clare were shopping. We eventually made Pittsburgh to meet up with some of our friends Ed, Sheri and Matt and to recuperate from a hectic couple of days.
GAME DAY vs THE CHIEFS
Monday was game day, but being a night game we had some time to provide Clare with her first opportunity to boost Pittsburgh's economy with her purchases of Steeler goodies. After breakfast with our friends Jodi and Ed with their children Madison and Lincoln, it was through the Fort Pitt Tunnel to share the Pittsburgh skyline with our rookie.
After the first of many Pittsburgh photo shoots, it was prep for the game. As the weather had turned to torrential rain, there wasn't going to be much of a tailgate party. Even we Brits can take only so much.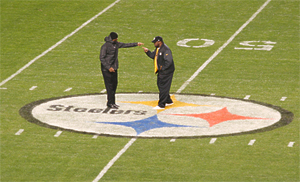 With the atrocious conditions outside, the warmth of the Club Section was far more of a congenial environment to prepare for the game. On the field during the pregame the Steelers paid tribute to the Armed Forces as the Sunday had been Veterans Day.
After the Steelers had gone three and out on their first possession, the Chiefs took an unexpected lead. Kansas, who had only won one of their previous eight games managed on four plays to put seven points on the board.
Following another three and out series for the Steelers, Pittsburgh attempted to put themselves deeper in trouble with Isaac Redman's fumble recovered by the Chiefs on the Steelers 10. Fortunately for Pittsburgh, the defense was playing effectively and Kansas was forced to settle for a 22-yard field goal, but it was another three points to extend their lead to 10-0.
The Kansas score appeared to spur the Steelers into action sufficiently for the offense to advance down the field and provide an opportunity for Shaun Suisham to kick a 35-yard field goal.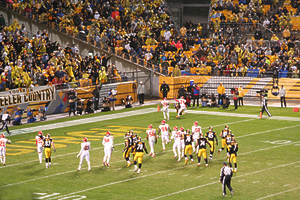 When the Chiefs fumbled the kick-off return to begin their next drive from their 8, it was the incentive the Steelers needed to apply the pressure. Kansas advanced the ball just four yards before being forced to punt giving the Steelers superb field position.
Beginning on the 50, Ben Roethlisberger turned to Jonathan Dwyer who gained 29 yards on four carries. Ben scrambled for 14 yards before passing to Mike Wallace for a 7-yard touchdown completion. Heinz Field breathed a huge sigh of release with the Steelers making the score 10-10 at halftime.
At the beginning of the third quarter, Roethlisberger was sacked and didn't return because of injury. The Chiefs missed a 33-yard field goal on their first possession of the half, but then thought they had recovered a Leftwich fumble that resulted in a touchdown. Heinz Field breathed another sigh of relief when the replay official reversed the call.
The Steelers took their first lead early in the fourth quarter with a 31-yard field goal before the Chiefs replied with just two seconds remaining successfully kicking a 46-yard field goal taking the game into overtime.
Kansas won the toss. Fortunately for the Steelers, Cassel was intercepted by Lawrence Timmons on his first pass attempt allowing the Steelers to kick a 23-yard field goal to win the game.
Tuesday we followed our tradition after a Steelers game of going to the stadium to pick up a programme from the game. This way it doesn't get damaged or lost as it might if we purchased it at the game. It's also an opportunity to look around the Steelers stadium shop at our leisure and the bonus is the golden chance to take more photos of the Pittsburgh skyline.
During the evening we visited Mount Washington with our hosts to enjoy a meal in a restaurant overlooking the Golden Triangle. The chosen restaurant was the Monterey Bay Fish Grotto. If you ever have the chance of eating in any of the fine restaurants you will find on Mount Washington, seize the opportunity if just for the views that provide a stunning background while eating.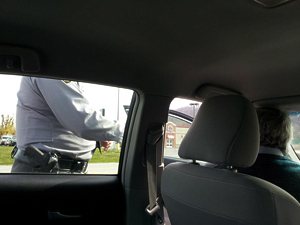 Wednesday was pay day for the fruits of my labour in planning a trip to Portsmouth, Ohio. The original pro football stadium from 1931 still exists so we had a day out to visit. A 500 miles round trip day out! Full details of that adventure can be found here, but for Clare the highlight was me being pulled by a State Trooper for speeding – allegedly.
Thursday we made our way to the Carrie Furnace. We knew there were no guided tours after September, but with my interest in Pittsburgh's (almost) defunct steel industry I wanted to get as close as possible to add to my photo collection. We visited Homestead two years previously and had taken photos of the former Steel Mill from across the Monongahela River. When we crossed the river we couldn't find the mill and no locals could help us with directions.
Again, two years of planning and Google Maps helped considerably and this time we did find it.
Friday we met up with author Chuck Finder downtown Pittsburgh for lunch and used the occasion to show Clare around the city. I also wanted to find the Forbes Field wall over which Bill Mazeroski hit the winning home run in the World Series of 1960. When the city renovated the area, it was part of the plan to keep the wall.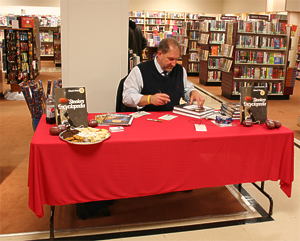 In the evening we met with Chuck again as he was signing his "Steelers Encyclopaedia" in my favourite downtown store, Kaufmanns – now Macys. It was the evening that Pittsburgh lit the Christmas lights so downtown was packed and outside Macys performing on a portable stage were Kool & the Gang.
We also met my old friend, Jim O'Brien, author of many, many books on Pittsburgh sports.
I had to purchase several Steelers Encyclopaedias as Christmas presents for my family and friends so to have them personalised by the author was the icing on the cake. Tough to take home in the luggage though!
Saturday, Clare and Pete went off to a gun club for some shooting practice while I went to Heinz Field to meet my friends Cindy and Clive at the Batmobile show. The collection of the different Bat cars was put on for the launch of the Dark Knight Rises DVD. And we all know why Heinz Field was chosen for the event.
In the evening we attended the Steelers 80th season celebration dinner held in the Club section at Heinz Field. Naturally hosted by Tunch Ilkin and Craig Wolfley, they introduced Willie Parker, Chris Hoke, Josh Miller, Jerome Bettie, Dwayne Woodruff, Louis Lipps, Dermontti Dawson, Lynn Swann, John Stallworth, Joe Greene, Dick Hoak, and Bill Priatko.
All the former players took their turn to tell how much playing for the Steelers meant to them. During the evening they held a silent auction for some unique autographed Steelers memorabilia. I just missed out on a pair of Ben's football shoes.
GAME DAY vs THE RAVENS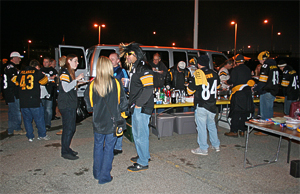 As the weather was kinder for this game, we were able to tailgate with even more of our Pittsburgh group. I did actually manage to meet up with Lisa and Matt, but meet ups with Tom from England and from the Dubliners, Heidelberg didn't happen. It's not as easy as you might think trying to meet people before a game as there is a lot of going on.
While tailgating, I went to the portable ablutions where someone in the queue overheard my English accent and asked to swap calling cards, so I gave him a SteelersUK one and he gave me his saying it might come in useful. He was a State Trooper so I told him I had needed him in Portsmouth!
Here we were again, Heinz Field for the big one against Baltimore without the injured Ben. Byron Leftwich started well. A pass interference penalty on his first pass attempt to Mike Wallace placed the ball on Baltimore's 38. A run by David Gilreath gained another seven yards.
On second down, Leftwich was unable to find an open receiver so scrambled right and then decided to advance the ball himself. He avoided tackles before taking the ball into the end zone where his summersault left its mark on him. The Steelers led 7-0 just thirty one seconds into the game with UK fans ecstatic.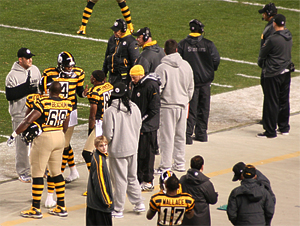 The Steelers kept the Ravens to three and out on their first possession and things were definitely looking bright until Mike Wallace's fumble gave the ball back to Baltimore and hand them good field position. The Steelers defense did its job and held their opponents to a 26-yard field goal.
As the first quarter was coming to an end, the Ravens special team lived up to its name when Drew Butler's punt was returned 63 yards for a touchdown to give the Ravens a 10-7 lead. Heinz Field was stunned and as silent as a morgue.
Leftwich's interception in the third quarter proved costly with the Ravens adding three more point's to their score on a 39-yard field goal. The Steelers next possession saw them kick a 22-yard field goal to reduce the deficit, but alas both defenses dominated the rest of the game and the Steelers lost 10-13 and any chance of taking the division title.
Monday, Clare didn't make the mid-morning call, so Pete and I went to the John Heinz History Center in the Strip district of Pittsburgh followed by a lunch date at Primanti's with Neil Owen and his charming wife Ashley. I knew Neil from when he worked in Basingstoke before he moved to Pittsburgh so it was good to catch up with their experiences of their transfer from one culture to another.
The History Center had a Hall of Fame football exhibition with the focus on the Steelers and the Immaculate Reception, celebrating its fortieth anniversary. On our previous visit to the History Center we were fortunate to see an exhibition celebrating the photos of my friend Mike Fabus.
In the evening we went with our friends and Pat and Paddy to a restaurant that we like because of the good steaks you can get - Mike Dikta's.
Tuesday, our last full day in Pittsburgh… what's to do? Plenty!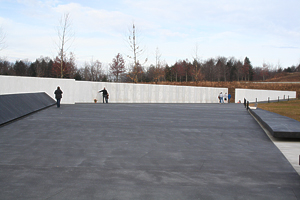 We didn't tell Clare of our cunning plan, but as usual it was an early start so that we could travel to Shanksville to see the memorial that Pete, Ed, Sheri and I had helped fund two years previously when we went to the 40-4-40 dinner at Heinz Field.
Poignant is the only description I can offer. What went on in United 93 on 9/11 we will never know and we can only wonder what we would have done if placed in the same position. Extremely brave travellers.
After paying our respects it was back to Pittsburgh where I had arranged a meeting with an old friend, but we hadn't told Clare where we were going. We wanted it to be a surprise although she did confess later that when we turned into South Water Street, she did have an inclination.
The Steelers administration offices and training complex are on the Southside, near the FBI building. I know where that building is after using their approach to turn round one time. If you ever wonder what it is like to have big brother watching you, just use their entrance to make a turn. Seeing the sign "FBI" definitely makes one feel uneasy.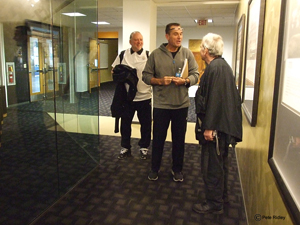 We were at the Steelers' offices to meet Mike Fabus, the recently semi-retired photographer for the Steelers. Clare had not seen the facilities before, so we had a guided tour that included the weights room where Casey Hampton was riding a bike. He enthused about visiting London, but of course that may not happen now.
Mike Tomlin was talking to someone in the office when we entered the weights room, but being English, we just put on our airs and graces and pretended we hadn't seen him.
We went outside onto the practice field where the Panthers were training in the far corner. The Panthers and the Steelers share the training field, but the administration blocks are strictly segregated because of NCAA rules.  I obviously had my photo taken hitting a training dummy so the question could be asked – which one is the dummy?
I was introduced to Dick LeBeau and then Tunch Ilkin (picture left) wandered by so I gave him a SteelerNation UK polo shirt. He really is looking forward to the London trip. Clare and Pete had their photos taken with the six Super Bowls and also wearing Mike's Super Bowl ring.
It was a good visit as it always is to the Steelers offices and when Dick LeBeau walked past to go home, he smiled and joked, "Jolly Ol England." Absolutely magic.
One final evening with our friends before travelling back to New Jersey for the flight home. As we hadn't learnt our lesson from previous travelling, we were stopped doing 74 in a 55 zone, but again were fortunate just to be told to watch our speed.
And another successful adventure to Pittsburgh completed. It was great to catch up with all our friends and I look forward to spending more time with them this year.